On Twitter, a lady called Retha posted and said, "Guys, what's the worst that could happen if we all voted for the EFF? Hear me out. And remove them again next election if they flop? The goal is to remove the ruling party, which has never been done before. I'm genuinely asking. Her post caused a stir on social media as it went viral, and a lot of people reacted in many different ways to what she posted and said.
Sweet said that there was going to be an unstable administration for 5–10 years, and maybe after that things might start to take shape. He said that he thinks they need an organization that will send people to learn administration from countries that are doing great and then see how we can implement some of the things from there. They said that Malema was an ANC youth league president who owned millions of estates with his less than R50k salary, and just imagine if he could be the state president. One of these people said that they must look because Malema will own them all. This person also said that Julius Malema would want to enrich himself before he could deliver.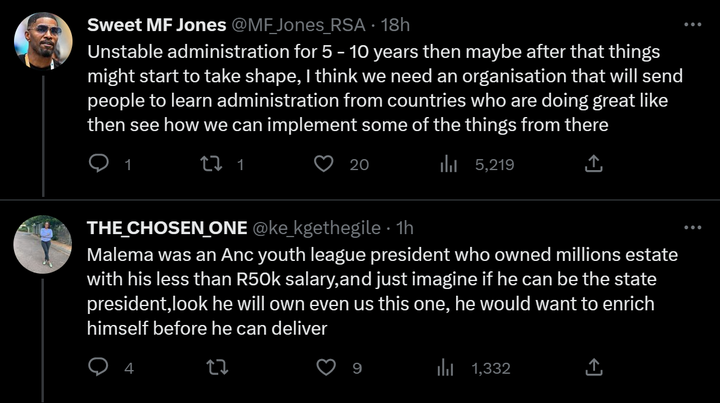 Capricorn said that he finds Malema lacking in genuine respect for South Africans and showing signs of dictatorship. He said that their border policy scares him because they are in that mess of uncontrolled immigration because of the same carelessness by the ANC. Therefore, he feels like they will be voting for the mini-ANC. One of these people said that he thinks South Africans need to understand that "foreigners" are there to stay. This person said that they can not do anything to chase them away the sooner they accept that, the better.

Source: Retha_MaTau🦁 on Twitter: "Guys, what's the worst that could happen if we all voted the EFF? Hear me out.✋🏾And remove them again next election if they flop? The goal is to remove the ruling party, which has never been done before. I'm genuinely asking." / Twitter
Content created and supplied by: #d-trends (via Opera
News )