The United States is scrambling to keep toes with South Africa strong after last weeks bombshell.
US Secretary of State Antony Blinken has confirmed talks with International Relations Minister Naledi Pandor where they reaffirmed the strong ties between the two countries.
A senior politi­cian said it was not the first time Bri­gety had behaved in this fash­ion, and they were grow­ing tired of him.
"The ter­ror alert, it was him. We call him a mega­phone dip­lo­mat and it's not accept­able."
The US embassy yes­ter­day refused to elab­or­ate fur­ther on the mat­ter, but it is under­stood there were huge dip­lo­matic efforts on both sides to arrive at a com­prom­ise.
Gov­ern­ment offi­cials were adam­ant that the US got its intel­li­gence wrong, insist­ing the ship had merely dropped off a pre-Covid arms order for South African spe­cial forces.
But Bri­gety had told report­ers on Thursday: "We are con­fid­ent that weapons were loaded onto that ves­sel, and I will bet my life on the accur­acy of that asser­tion."
Two sources within law enforce­ment said South Africa does not have the capa­city to build the cal­ibre of arms required by Rus­sia.
"We don't have arms for ourselves, so we are not in a pos­i­tion to sup­ply Rus­sia. Where [would] we get that capa­city?"
Another source close to the defence force said the US was try­ing to force South Africa to end its ties with Rus­sia by any means pos­sible.
The source said there was a Chinese naval task force con­sist­ing of a long-range mis­sile des­troyer (a ship), a cargo ship and a nuc­lear-powered sub­mar­ine due to dock in Simon's Town soon.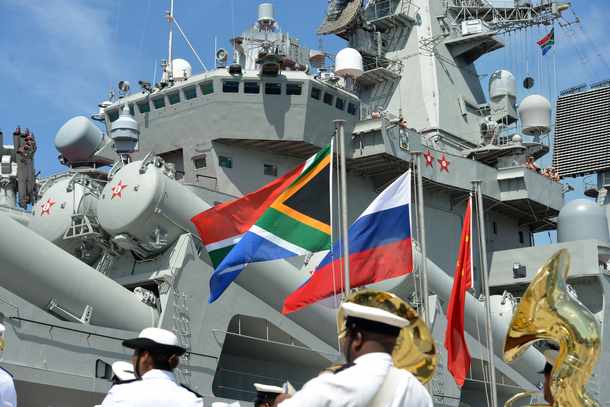 "The task force is com­ing from its routine inter­na­tional sea patrol along­side a hos­tile Nato task force. This is nor­mal inter­na­tional prac­tice among navies. Before that, a French naval des­troyer will dock in Simon's Town. My sus­pi­cion is that the US is try­ing to force us, or bully the coun­try," said a source.
Defence spokes­per­son Siphiwe Dlamini said all inform­a­tion would be tabled at the inquiry.
Amid the drama, Pre­toria and Moscow appeared to deepen ties on Fri­day. The Krem­lin said Putin had, at the request of South Africa, fielded a call with Ram­a­phosa.
Source: https://www.iol.co.za/news/politics/us-secretary-of-state-antony-blinken-talks-to-pandor-after-diplomatic-fallout-over-russian-ship-688a26ce-4aad-4dd3-b157-b951f8abffb1
Content created and supplied by: SheSays (via Opera
News )