It has now become clear that the Eskom problem is a self created problem by the ANC. Now they are being exposed. The kind of loadshedding that the people have to experience on a daily basis is just too much. We know that there is corruption at Eskom and Andre De Ruyter has revealed some information saying that the ANC officials are involved in corruption at Eskom. The ANC through the government makes it look like they are solving the Eskom crisis while they are just making sure that they get something for the themselves. It is true what Julius Malema once said that each and everyday when ANC leaders wakes up, the only thing they think about is how they will continue to loot Eskom and not how they can solve the problem.

But we also know that there are those municipalities and communities that owes Eskom. Soweto residents are amongs the ones who owes Eskom a lot of money and there has been proposal that the debt should be Wiped off. This would mean that the people no longer have to pay for what they owe. We saw the premier of Gauteng Panyaza Lesufi also saying the same thing that the debt should be wiped because people can not afford to pay that debt. Most of the people are pensioners who live on social grant and it will be difficult to pay for that debt. But this has also raised a lot of concerns because now people might just think that you don't always have to pay for the service as it will be wiped off eventually. Many other communities pay for their services and Soweto residents should not be exampted from that.
But the mminister of finance Enoch Godongwana says that the debt can be wiped off ony is they accept the terms and conditions. One of the conditions is that they agree to use prepaid meters and only then will their debt be wiped off.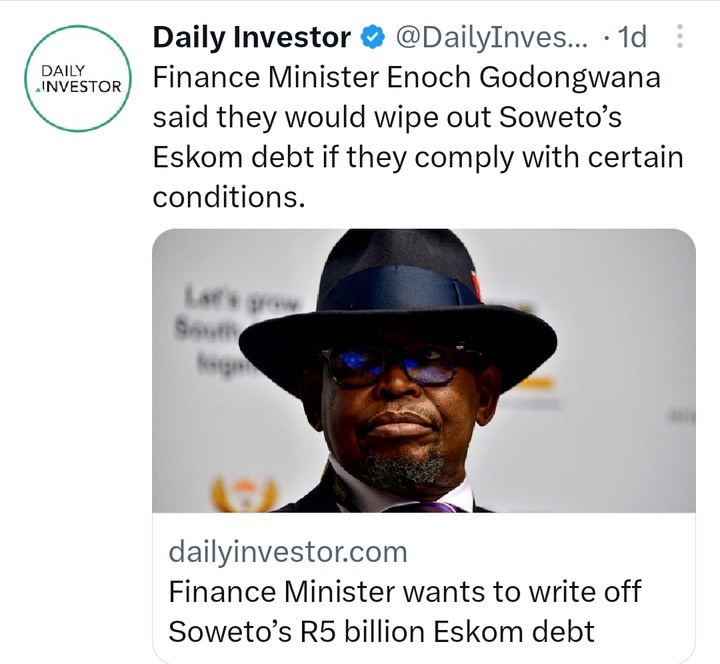 Finance Minister Enoch Godongwana said they would wipe out Soweto's Eskom debt if they comply with certain conditions.https://t.co/ZEzdkqlkID

— Daily Investor (@DailyInvestorSA) May 19, 2023
Content created and supplied by: ApexA (via Opera
News )