As South Africa grapples with political uncertainties and economic challenges, the question of who will become the country's next president has become a topic of great interest and speculation. The African National Congress (ANC), the ruling political party, has faced criticism for its leadership's hunger for power and lack of transparency, resulting in a decline in economic performance. Amidst this backdrop, Mzwanele Manyi, a former member of the African Transformation Movement and a new member of the Economic Freedom Fighters, has made a surprising declaration endorsing Naledi Pandor as the ideal candidate for the presidency.
Manyi's support for Naledi Pandor stems from his belief that she possesses qualities lacking in previous ANC leaders. According to Manyi, Pandor is a principled and independent individual who does not cater to individuals based on their wealth or influence. Manyi's endorsement raises questions about the ANC's current leadership and whether a member like Pandor, who is seen as vigilant and incorruptible, would have a chance of becoming the next ANC President.
The ANC has been marred by a lack of accountability and transparency, which has eroded public trust and affected the party's chances in the upcoming general election. With only a few months remaining, the ANC needs to be prepared for the sentiments and actions of the disillusioned electorate who have grown tired of broken promises and unfulfilled commitments.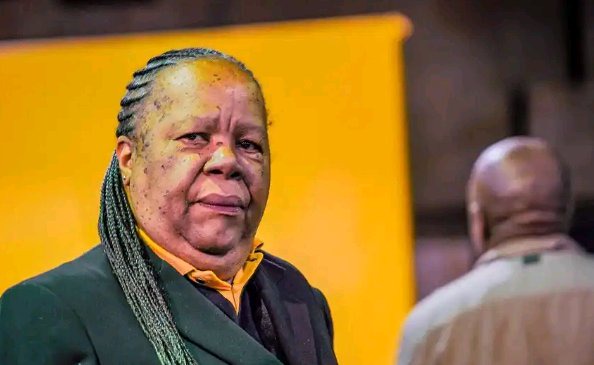 ANC President Cyril Ramaphosa remains confident in his party's ability to secure another victory in the upcoming election without the need for a coalition government. Ramaphosa believes that the ANC can regain the people's trust by delivering on their promises and meeting the needs of the citizens.
The proposal of Naledi Pandor as a potential president raises important questions about the ANC's direction and its ability to address the concerns of the people effectively. As public sentiment and dissatisfaction grow, it is crucial for the ANC to recognize the need for change and to consider fresh leadership options that prioritize transparency, accountability, and economic growth.

In light of these developments, it is essential for the citizens of South Africa to engage in meaningful discussions and debates surrounding the future leadership of their nation. While Mzwanele Manyi's endorsement of Naledi Pandor may spark further conversations, it is ultimately up to the voters to decide the fate of South Africa in the next general election.
What are your thoughts on this matter? Do you believe a candidate like Naledi Pandor could bring the change South Africa needs? Share your opinions in the comment section below. Don't forget to like, share, and follow for more insightful news reporting.
Source:
https://twitter.com/MzwaneleManyi/status/1657116919600762904?t=deXbF-HaASbokFNf9p8v3g&s=19
Content created and supplied by: Latest_Updatez (via Opera
News )