Source:
https://twitter.com/PresidencyZA/status/1659533740031328256?t=KqSVpPHjufiNL2d63eiSYA&s=19
Title: President Cyril Ramaphosa Inspects Vlakkeland Housing Project Ahead of Presidential Imbizo
Date: May 20, 2023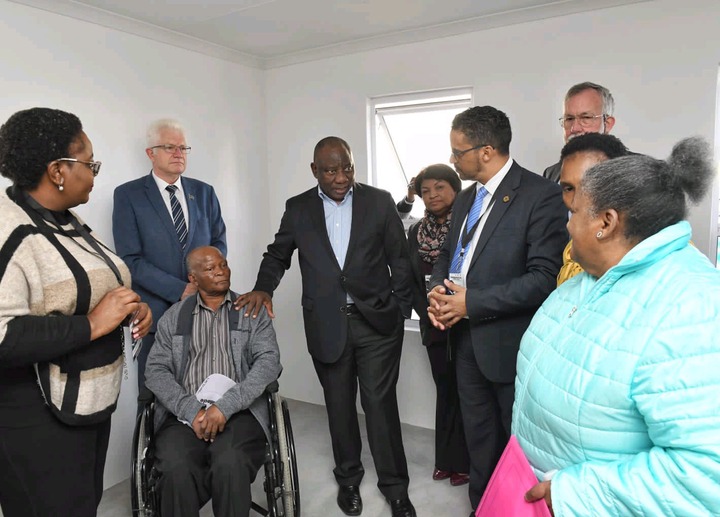 In the lead-up to the highly anticipated 2024 presidential election in South Africa, prominent political figures vying for the presidency have embarked on strategic visits to influential stakeholders. As the end of his tenure approaches, President Cyril Ramaphosa is making efforts to ensure his legacy remains intact and his chances of winning the race are not compromised. During his time in office, Ramaphosa faced criticism for certain shortcomings while also overseeing the initiation of various development projects, albeit with disparities across different regions.
Today, President Cyril Ramaphosa, accompanied by the Premier of the Western Cape, Mr Alan Winde, the Minister of Human Settlements, Mmamoloko Kubayi, and the Minister of Cooperative Governance and Traditional Affairs, Thembi Nkadimeng, was seen conducting an inspection of the Vlakkeland Housing Project. This visit comes ahead of the 6th Presidential Imbizo scheduled to take place in the Cape Winelands District Municipality, located in the Western Cape Province.
The Vlakkeland Housing Project is a crucial initiative aimed at addressing the housing needs of South African citizens. It represents one of the many projects undertaken during Ramaphosa's presidency, aiming to improve the lives of individuals living in inadequate housing conditions. The President's presence at the project site demonstrates his commitment to ensuring the successful completion of this initiative and his dedication to providing better living conditions for all citizens.
However, critics argue that it would have been more prudent for Ramaphosa to prioritize fulfilling his promises earlier in his tenure, rather than during the final stages as he prepares to leave office. They contend that some parts of the country were neglected in terms of budget allocation, while other regions were fortunate enough to witness significant development projects.
The upcoming 6th Presidential Imbizo presents an opportunity for Ramaphosa to engage directly with the citizens of the Cape Winelands District Municipality. The Imbizo serves as a platform for the President and other government officials to interact with local communities, address their concerns, and gain insight into their needs and aspirations. The visit to the Vlakkeland Housing Project ahead of this event underscores the importance of inclusive development and the President's commitment to delivering on his promises.
As the 2024 presidential election approaches, the visits by political figures to influential stakeholders and project sites are expected to continue. Each candidate strives to garner support and ensure their objectives align with the aspirations of the South African populace. It remains to be seen how these efforts will shape the political landscape leading up to the election, and which candidate will ultimately succeed Cyril Ramaphosa as the next President of South Africa.
Source:
https://twitter.com/PresidencyZA/status/1659533740031328256?t=KqSVpPHjufiNL2d63eiSYA&s=19
Content created and supplied by: Dembelenews (via Opera
News )