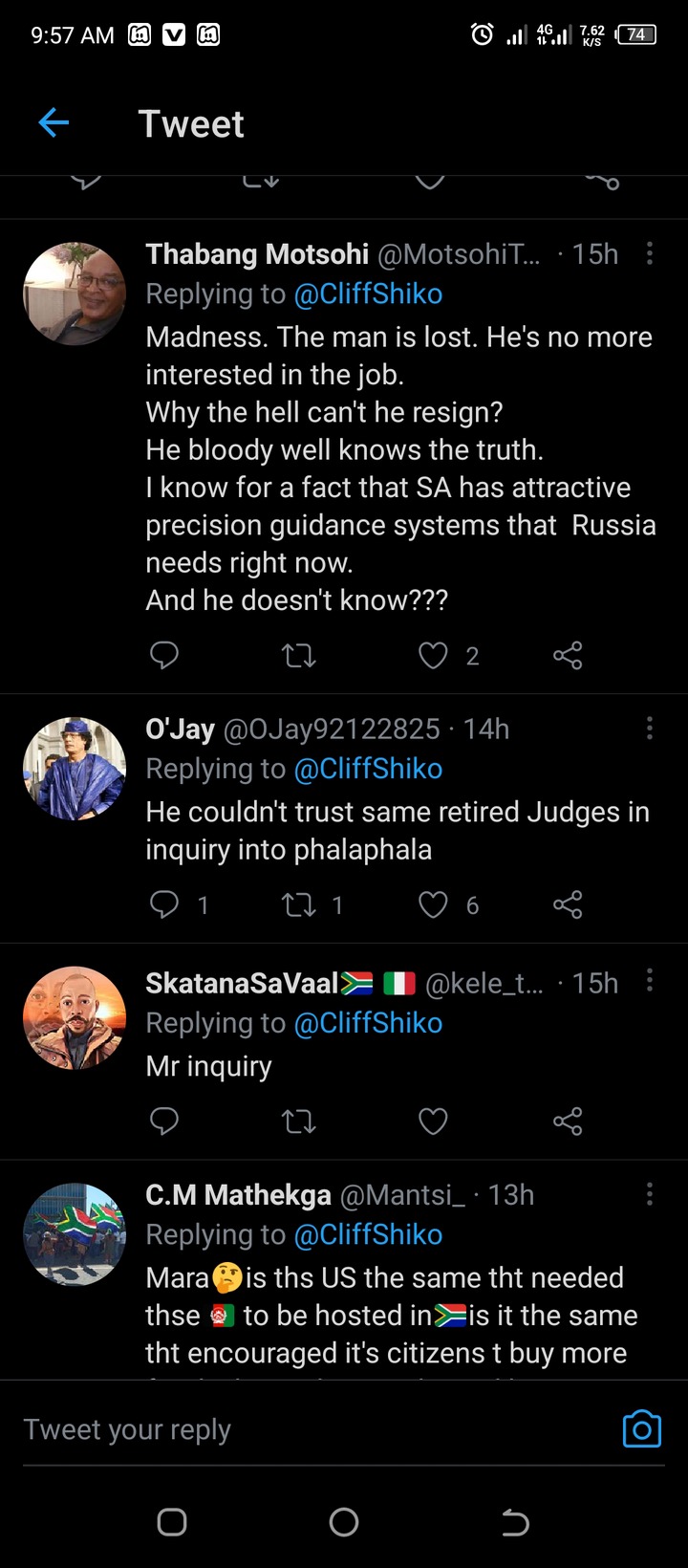 The govt establishes an independent inquiry into the allegations by the US that SA is supplying weapons to Russia. The probe will be chaired by a retired judge, the Presidency spokesperson confirmed. Madness. The man is lost. He's no more interested in the job.
Why the hell can't he resign?
He bloody well knows the truth.
I know for a fact that SA has attractive precision guidance systems that Russia needs right now. And he doesn't know?
Marathi this US the same that required these to be hosted in it the same that encouraged its citizens to buy more food n be vigilant as there will b Serious Unrest in SA nice if is the same. What nonsense inquiry? After 3 months, parliament will sit and debate the recommendations, then another 3 months to review. What a farce, we will investigate ourselves and once everyone has forgotten about the issue, we will issue a statement declaring ourselves innocent. Old @MYANC ploy. As usual, nothing will happen after they waste millions of taxpayers money on another useless inquiry. South Africa has been Russias strong allie in this Ukraine war and has made public statements that sideline the US and its Allies. What this means is, Truth or Not, South Africa will be made an example of a small Kid who challenges elders. Watch the space.
How's the preparations for the end of ZEP in June. Are you going back to your father's backyard, Zimbabwe any by yourself or thanks to ZIM govt repatriation program? 
Soon we will have an enquiry on what makes water wet? The last time a retired judge was used, the same ANC voted against his findings, a whole former CJ. I can only assume that the terms 9f of reference for the enquiry have already been set out by Ramaphosa & it's ANC NEC, which will not be made available for comment.
Essentially, he doesn't know what is happening in the government he leads. 
How? The chairperson who sits on the committee that approves arms sales in SA sits at the presidency, it should be a yes or no answer, but I guess they are weighing in their options (politicking) this leads to the conclusion that they actually did sell the said weapons. Cyril Ramaphosa should just resign.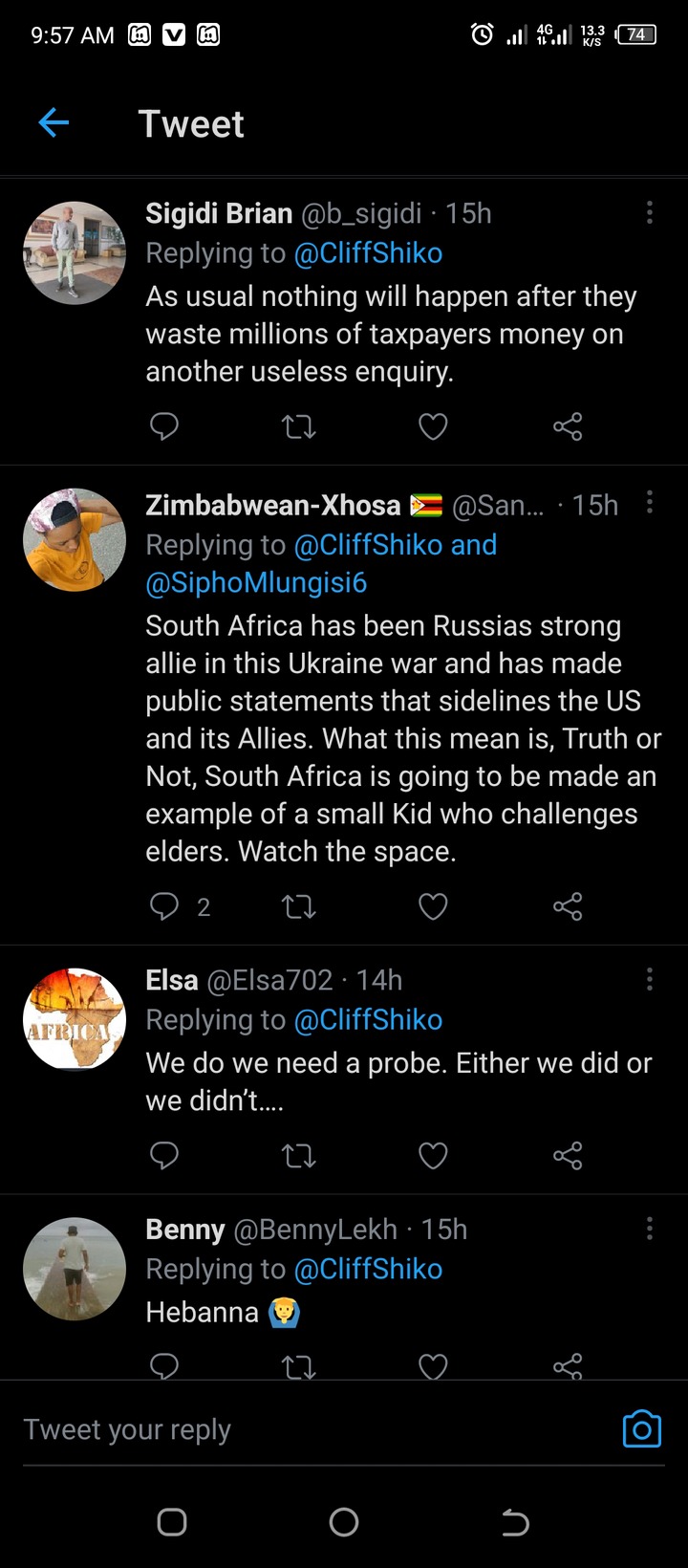 All you had to say to the US is that they must stop with unfounded statements and that SA is a friend of Russia. The US should mind their own business and consider sanctioning themselves for all the trouble caused by them throughout the world. They have been threatened already through AGOA that this will affect trade benefits. So be it, AGOA will come together assisted by Russia to replace the US. What is South Africa paying this man for? We are always on autopilot, everything is an opportunity for independent inquiries, when is he going to take responsibility and be a president? We don't need yet another commission/committee, we simply ought to answer the basic question did we or did we not?, there's no ambiguity here, surely the presidency can provide the answer. Furthermore, we don't have a president in this country. He does not know what is happening under the noise. Ziyakhala manje. He thought sitting on the fence was cool. We chose Putin; therefore we must endure the consequences of sanctions.
What is the independent inquiry meant to achieve. Is the President saying they are not sure whether arms were loaded or offloaded on the Russia ship. Then really, we don't have a president. 
Sources:
JUST IN: Govt establishes independent enquiry into the allegations by US that SA is supplying weapons to Russia. The probe will be chaired by a retired judge, Presidency spokesperson confirmed. pic.twitter.com/2z7btUpcTS

— Cliff the Reporter (@CliffShiko) May 11, 2023
https://t.co/2z7btUpcTS
Content created and supplied by: Oyems (via Opera
News )