It has become very clear that coalition government is nlt working for South Africans politics. Politicians from different parties are not yet ready for this. We know that in local government there are coalitions that are just not working. The best example is the City of Jo'burg. There is no stability in that Metro. There is always a new mayor and this is nlt good for the residents of Joburg. But we know that parties don't have the interest of the people at heart. This is always about them and what they want and at times it is just about to prove a point at the expense of the people.
Many parties have been complaining about the DA and this came after the DA announced its moonshot pact coalition that it wanted to form with other parties so that the ANC does not win elections come 2024. There are other parties that have joined but thee are those parties that have indicated that they would like to be part of the Moonshot Pact because indeed the ANC need to be removed from power. But the only problem was that this is under the DA and they have worked with DA before and know how they operate. They like to control all the other parties and they make decisions without even making consultations to the small parties they are in coalition with.
We know that ActionSA has been in coalition with the DA in most Metros if not all. But it looks like they are not happy at all about the treatment from the DA. Herman Mashaba says that Tswhane does not have a DA mayor but a multi party government. The DA is misleading the people and this is not for good coalition. This comes after the DA said that they are investing in Tshwane's future as the DA mayor in Tshwane has proposed a R1 billion for vital water and electricity infrastructure. The coalition parties have been left out in this statement as usual because it is how DA operates.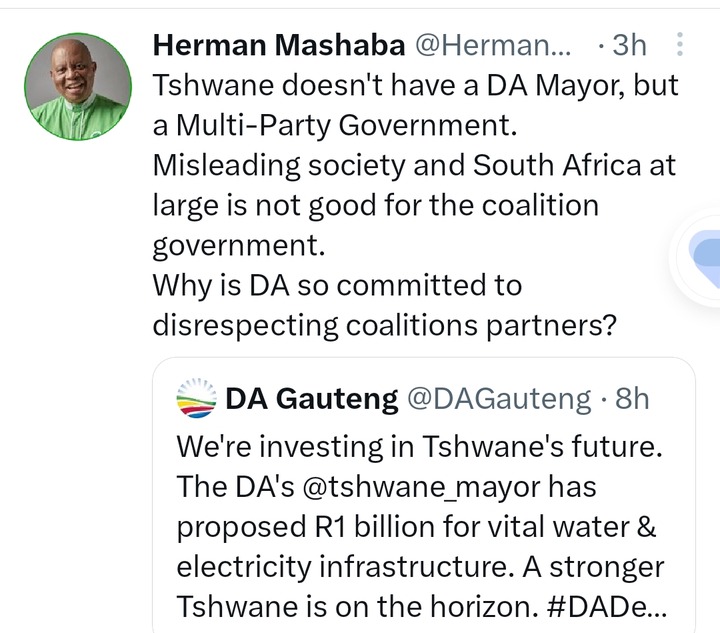 Tshwane doesn't have a DA Mayor, but a Multi-Party Government.
Misleading society and South Africa at large is not good for the coalition government.
Why is DA so committed to disrespecting coalitions partners? https://t.co/tGONSSICqQ

— Herman Mashaba (@HermanMashaba) May 19, 2023
Content created and supplied by: ApexA (via Opera
News )