In a remarkable display of community support, Duduzane Zuma, the young presidential candidate and son of former President Jacob Zuma, arrived in Alexandra township to an overwhelming reception from residents of all backgrounds. The excitement was palpable as the crowd eagerly awaited their chance to interact with Zuma, showcasing the growing admiration and interest in his candidacy.
As part of his ongoing presidential campaign, Zuma made a deliberate choice to engage directly with the people, a characteristic that has endeared him to many. This approach was evident during his visit to Alexandra, where he effortlessly mingled with the community members, taking the time to listen to their concerns and aspirations.
The warm reception Zuma received from both black and white residents was a powerful testament to his commitment to fostering unity and inclusivity within South Africa. The young candidate emphasized that true development could only be achieved when all racial groups work together, urging black individuals to reject the notion that they can advance the country without the support and collaboration of white, colored, and Indian communities.
While Zuma made it clear that he does not consider himself a seasoned politician, he is determined to become the country's next president and advocate for the rights and freedoms that every citizen deserves. Addressing the gathering, he expressed his desire to break free from the negative portrayal that often accompanies political figures and instead focus on his vision for a prosperous and harmonious South Africa.
Zuma's ability to connect with the electorate has sparked a wave of enthusiasm, with many citizens expressing their weariness of traditional politicians and their willingness to give him a chance. The momentum gathering behind Zuma's campaign suggests a desire for change and a fresh perspective on leadership. The fact that he is a young candidate only adds to his appeal, as it represents a departure from the older generation that has dominated the political landscape for decades.
As the 2024 presidential elections draw nearer, the question of whether Duduzane Zuma can translate his popularity into votes remains to be seen. However, it is undeniable that his ability to capture the attention and support of diverse communities, as witnessed in Alexandra township, places him in a formidable position among his competitors.
The upcoming months will be crucial for Zuma and his campaign team, as they work to translate the enthusiasm witnessed in Alexandra into widespread support across the nation. The political landscape of South Africa could potentially be reshaped if Zuma manages to maintain his current trajectory, making the outcome of the 2024 elections uncertain and injecting a fresh and youthful energy into the political sphere.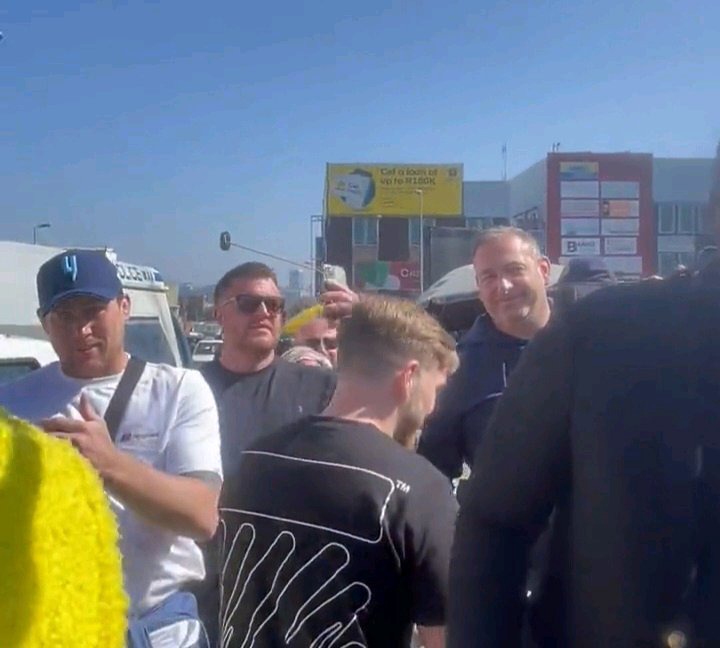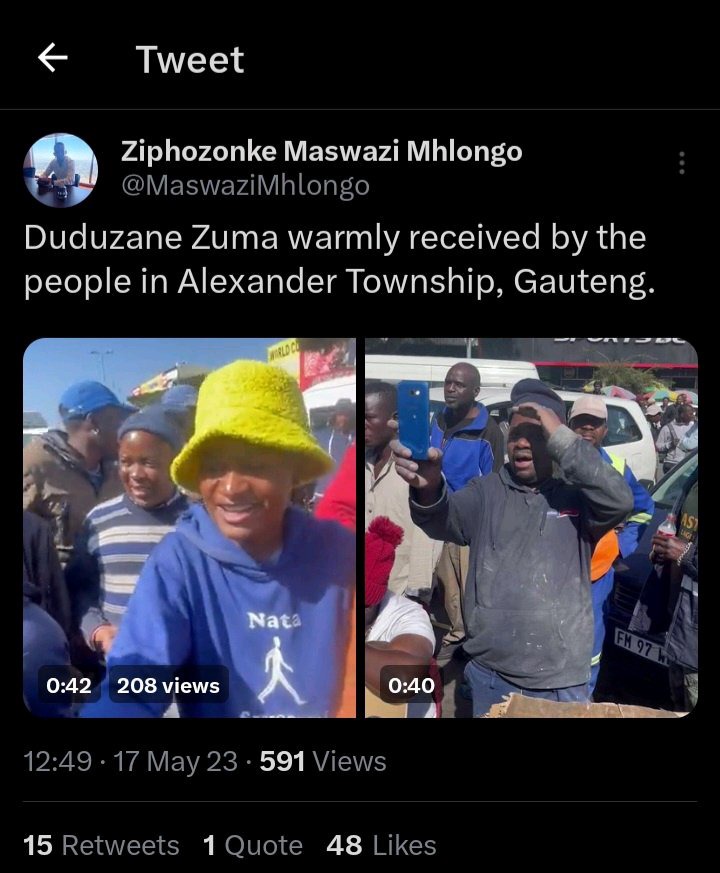 While opinions may vary on Duduzane Zuma's potential as the next president, there is no denying the impact he has made thus far. The warm reception in Alexandra Township serves as a reminder of the power of engaging directly with the people, listening to their concerns, and promoting unity among different racial groups. Only time will tell if Zuma can turn this support into a successful bid for the presidency, but for now, he has captured the attention and imagination of many South Africans eagerly searching for a change in leadership.
Source:
https://twitter.com/MaswaziMhlongo/status/1658786743573725186?t=-WTFJM9qn8LQA7wZCxY7wQ&s=19
Content created and supplied by: Latest_Updatez (via Opera
News )