Prince Ntuli is currently trending all over social media after dropping a bombshell regarding the issues of illegal foreign nationals in our country.
For over a decade now we've been dealing with a pandemic of illegal foreign nationals in South Africa.
Illegal immigration is a crime, coming to South Africa without proper documents you're committing a crime.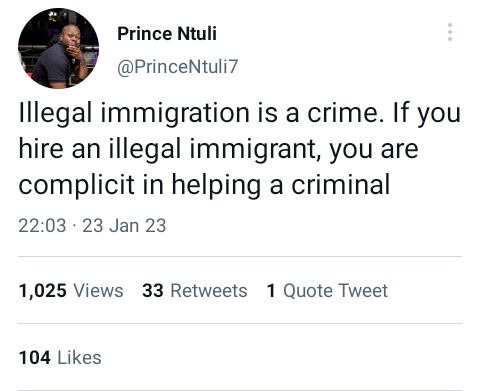 If you hire illegal foreign nationals you're also committing a crime, and to make matters worse you're helping a criminal.
What is sad about our situation in South Africa, when it comes to job opportunities our citizens are being overlooked. We're now a victim of cheap labor, one of the main reasons why we have a large the unemployment rate.
Those who are helping illegal foreign nationals by providing jobs for them, have to be arrested if we're being honest.
We need to talk about landlords who're accommodating illegal foreign nationals as well.
Sources:
Illegal immigration is a crime. If you hire an illegal immigrant, you are complicit in helping a criminal

— Prince Ntuli (@PrinceNtuli7) January 23, 2023
Content created and supplied by: Albiceleste (via Opera
News )