President William Ruto's Economic Advisor David Ndii has dismissed calls to have the president's motorcade reduced in number, after a lawyer identified as Mutichilo Mike on Twitter claimed that there is a lot of money wasted in the president's motorcade.
In his message on Sunday, Mike said, "Kenya isn't a narco or terrorist state ,where the president needs such an elaborate convoy of vehicles and security plus ambulance…eii it's an extravagant and colonial in nature . President should trim it down , even the cabinet secretaries and governors need to trim down."
In his response, Ndii said the president's motorcade only involves at most 15 vehicles as he leaves State House to any event, and the motorcade increases in number while leaving the function since other leaders join in.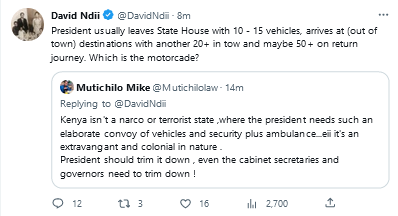 "President usually leaves State House with 10 – 15 vehicles, arrives at (out of town) destinations with another 20+ in tow and maybe 50+ on return journey. Which is the motorcade?"
Ndii's remarks comes a day after PLO Lumumba also took to his Twitter account complaining that the motorcade ought to be reduced in size owing to the hard economic times.
"I have today on the 20th day, 2023 at 9.40am along Muthaiga Road seen President William Ruto's Motorcade. With due respect Excellency, reduce it's size. It's too much opulence in the midst of economic difficulties. "
Content created and supplied by: @Facts (via Opera
News )