A senior Judiciary Official could soon land in trouble.It is alleged that the official who has a senior rank in the judiciary is now on the radar of lawyers after being spotted at a secret meeting with two people who are of questionable nature.
Details alleged that the senior official in the judiciary met the two individuals at a top city hotel but was spotted by someone who saw what transpired during the brief secretive meeting.The official is said to have driven to the basement of the hotel and joined the two individuals who were already at the venue.
The official had a brief exchange with the questionable guests that lasted about three minutes with the individuals without stepping out of the car.Later official was handed a parcel whose contents have not been established yet.Questions are being raised by those in the know why the meeting took place in the basement and for only some few minutes.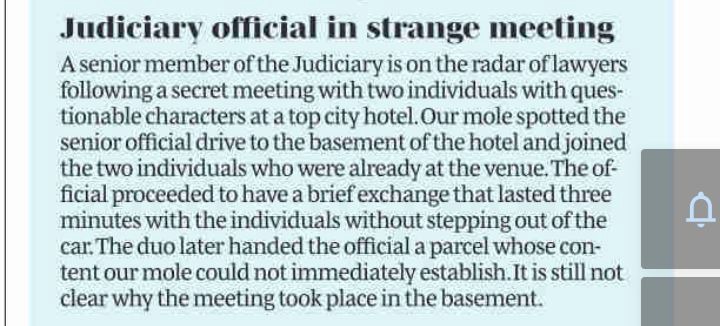 Content created and supplied by: TheMbaruNews (via Opera
News )