Narok County Senator Ledama Ole Kina has broken his silence over the proposed Finance Bill 2023 as he has alleged what the Kenya Revenue Authority (KRA) will do to businesses if the Bill is passed.
This comes a time when the Finance Bill 2023 aims to amend various laws relating to taxes and duties with the aim of increasing government revenues from taxes collected. This means that Kenyans will pay more taxes from their incomes and from the purchases of various goods and services.
Senator Ledama Ole Kina has sent a warning message to Kenyans that the Kenya Revenue Authority will frustrate Kenyans once the Finance Bill is passed.
According to Ledama, Kenyans will suffer hence they will regret voting for the Kenya Kwanza government in the 2022 elections.
This comes a time after Kenyans are facing hard economic times when the prices of goods and services have gone up hence finding it difficult for some people to put food on the table.
Ledama has alleged the amount of money that businesses in Kenya will pay to the Kenya Revenue Authority as taxes and how they will have to pay more in the event that they seek legal proceedings at the courts.
He has claimed that the Kenya Revenue Authority can push for a tax of Kshs one billion to a Kenyan businessperson and before they can go to court and prove that they cleared all the tax, they shall have paid over Kshs 250 million to prove.
Ledama has said that his latest revelation is the naked truth that Kenyans should be ready for.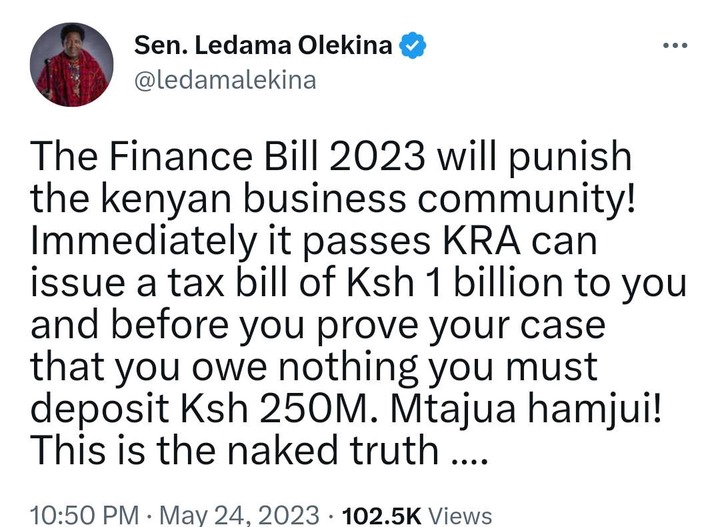 " The Finance Bill 2023 will punish the kenyan business community! Immediately it passes KRA can issue a tax bill of Ksh 1 billion to you and before you prove your case that you owe nothing you must deposit Ksh 250M. Mtajua hamjui! This is the naked truth, " Ledama Ole Kina posted on Twitter.
Content created and supplied by: mbevimbevi (via Opera
News )