On Thursday, May 18, a video of a Kenyan lady performing a rendition of the renowned Christian song 'How Great Thou Art' while pleading former President Uhuru Kenyatta went viral.
The lady bemoaned President William Ruto's policies in the video, which was first released on Tiktok and has had over 30,000 views, 2,800 comments, and over 3,000 shares.
The clip maker begged Uhuru to ask Opposition Leader Raila Odinga to hold President Ruto's government accountable for the high cost of living in her area.
"Uhuru Kenyatta Where have you gone? Come and see for yourselves how we are suffering. Ruto, Musalia, and Gachagua are claiming Kenya as their personal property," she sung in a tone reminiscent of a popular Christian song.
"Uhuru, just inform Raila to defend the citizens," she cried out.
Her rendition was widely circulated, with a segment of Kenyans airing their angst over the exorbitant cost of living. Others uploaded a video of traders urging President Ruto to intervene as petrol prices reached an all-time high.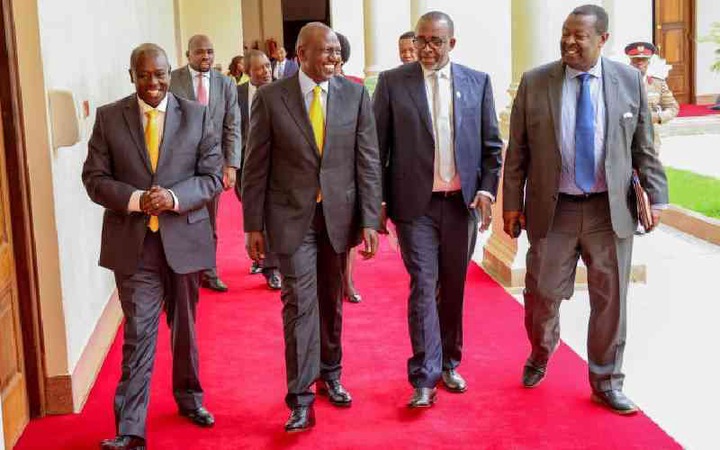 The prices of sugar, maize flour, and other basic necessities were published by the disgruntled Kenyans, who urged Uhuru to put pressure on Raila to fulfill his opposition duty.
Concerns were raised as some of Ruto's allies closed ranks and began protecting Uhuru. Betty Maina, a Murang'a Woman Representative, made news for defending the former Head of State.
She chastised a group of Mount Kenya MPs for disrespecting the former President.
Aside from banding together to protect Uhuru, several legislators resisted certain of Ruto's instructions, like as the drive to impose a housing charge on all Kenyans in formal employment.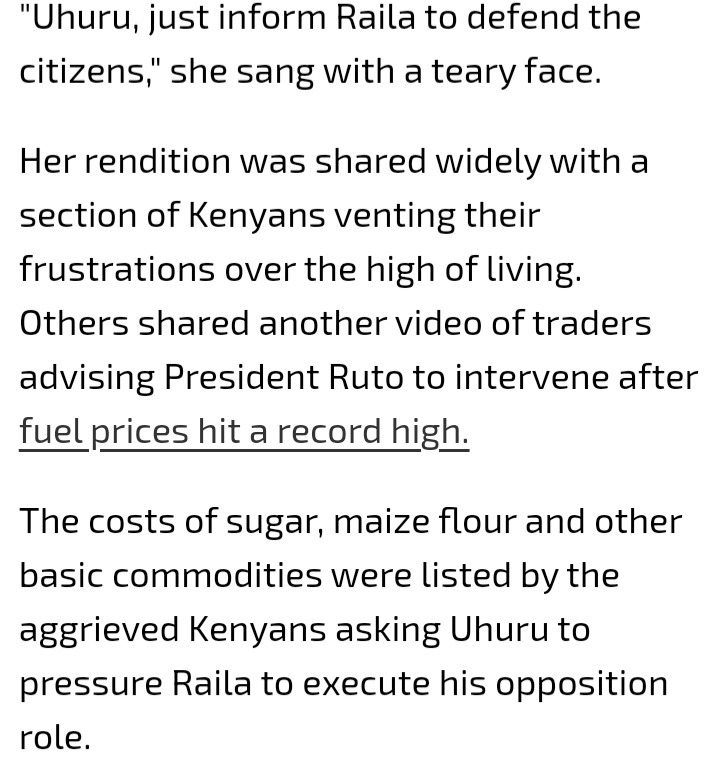 https://www.kenyans.co.ke/news/89466-kenyan-goes-viral-rendition-hymn-song-uhuru-over-ruto-leadership
Content created and supplied by: JobW (via Opera
News )