( Parliament in session, picture used for illustration )
A legislator from the coastal region seems to have over promised more than he should. Besides promising, he is also hawking the job's. The member of parliament is described as influential all the same as he holds a key position in parliament. But are the job's he is even hawking available? We ask. The jobs are also yet to be officially announced.
He has now promised so many people these post's, and one of them is one woman who is said to be just one out of the many. The woman has been going round bragging to everyone who cares to listen how she has been assured of employment by the lawmaker.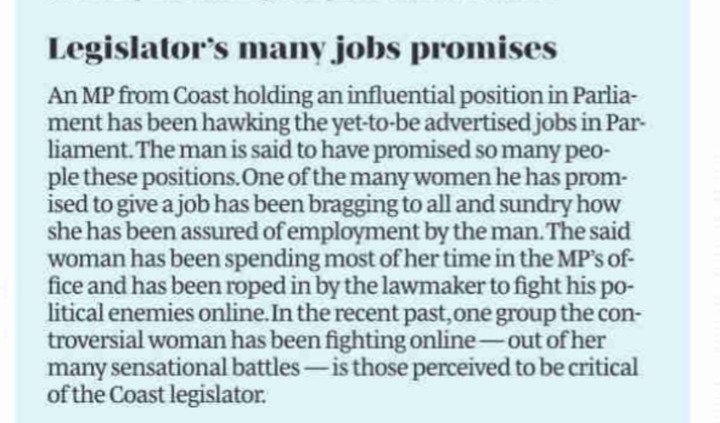 The woman in question is also said to be spending most of her time in the MP's office. He is now said to have roped in the woman so as to help him in fighting his political enemies online. One of the the group's that the woman had been targeting online out of her many sensational battle's is that one said to be critical of the coast based legislator probably because of his workability. For now, we wait for the annunciation of the available post's and also to see whether the member of parliament can deliver on all the promises that he has made to the people.
Shared via Daily Nation, Word on the Street
Content created and supplied by: WillyKim (via Opera
News )