Photo courtesy of Dr. Miguna and Senator Ledama.
A few hours back, senator Ledama Olekina left Kenyans confused. This is after he stated that he was going back to his fark to look after his cattle with claims that they have been left. Even though it is not clear who left Senator Ledama, his post seems to have raised a lot of questions.
In a recent post, it appears as if Dr. Miguna might have Gittem a glimpse of what the senator was talking about. This is after she reacted to the senator's post by using the words " Slow learners". The caption was accompanied by some laugh emojis to show that the lawyer was laughing at Senator Ledama.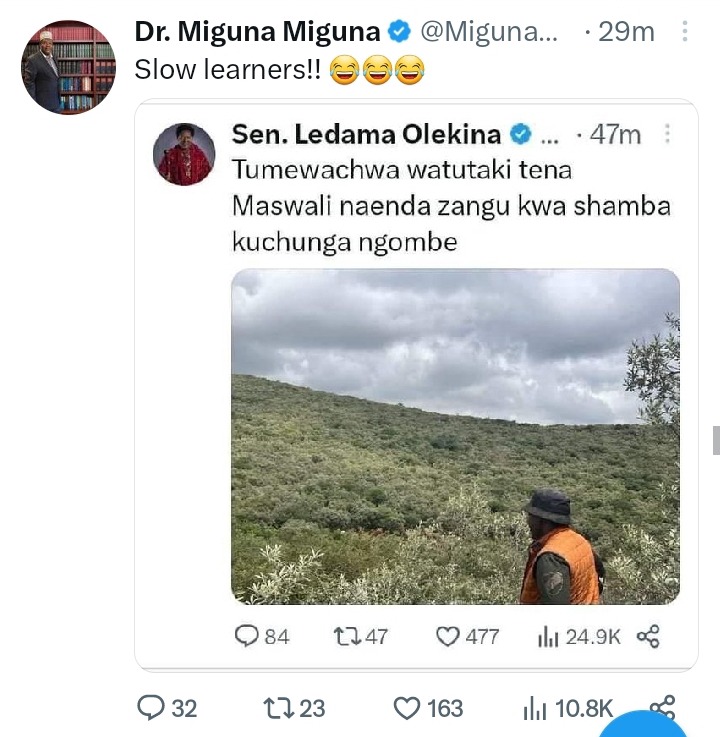 Even though it is not clear what the senator meant, a lot of Kenyans have been asking questions about whether anything is up. This is because the former Prime Minister and the president have been seen together for two consecutive days without a clear explanation of whether the meetings were planned or it was just a coincidence.
Currently, a lot of Raila supporters are keen to see the moves that he will make since they want to know whether Raila will stand up for Kenyans or side with the government as time goes by.
Source: https://twitter.com/MigunaMiguna/status/1657804562718240776?t=jlIi4nqbRpRMRV9Vc3CI3g&s=19
Content created and supplied by: Anyliser (via Opera
News )