Just one day after declaring that he will not tolerate corruption under any circumstances, President William Ruto has been given the advice to be resolute in his efforts to combat the problem.
On the official sites of his various social media platforms, City lawyer Ahmednasir Abdullahi pointed out to the President that, should he fail to win the battle against corruption, Kenyans run the possibility of turning against him and his administration.
The attorney pointed out that Ruto has a responsibility to demonstrate to the Kenyan people that their wealth will not be taken from them by members of his government.
The outspoken attorney added that Kenyans are just interested in seeing how the President is improving the economy, and they do not anticipate that any of their wealth will be stolen from them. He stated that any movement on Economy Me is to be welcomed since his predecessor, Uhuru Kenyatta, allegedly fouled it up. This was in reference to the allegations made against him.
"Kenyans want to see in President Ruto a leader who assures that their resources and riches will not be plundered by a few leaders nominated to his cabinet, who construe the same as greenlight to take from their people and their country. On his official social media channels, the lawyer posted the following statement: "Kenyans will understand if President Ruto takes time to resuscitate the economy for Uhuru destroyed it with crude vengeance."
Ahmednasir emphasized that Kenyans will not forgive Ruto if he fails to deal with the thieves who were in the government of Kenya Kwanza and those who were in the government of previous president Uhuru Kenyatta's administration.
"But Kenyans will not forgive him if he does not deal with thieves both in his government and in the administration that came before him in a ruthless manner," The outspoken attorney continued.
Ruto has already terminated the employment of those individuals who were implicated in the KEMSA Scandal. Concurrently, he has placed a number of government officials on administrative leave in connection with the tainted Sugar Scandal.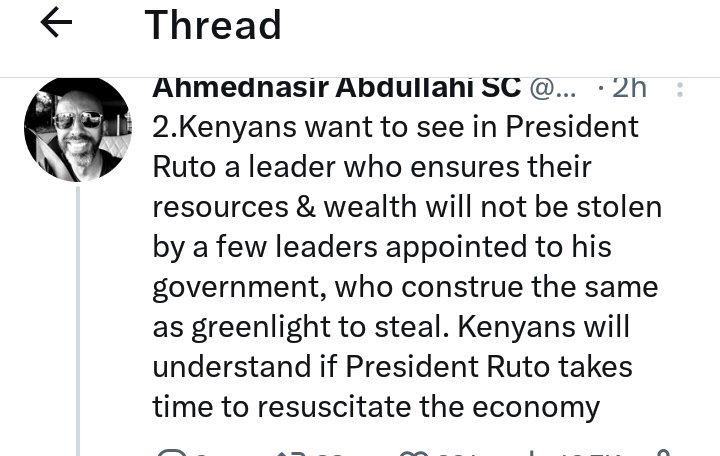 This information was obtained from the following website: https://twitter.com/ahmednasirlaw/status/1659931418070327296?t=BkJT0KRWvUYs-fscEH5AaA&s=19
Content created and supplied by: Hotandtrending (via Opera
News )