Kenyans should prepare to pay extra for almost all the basic commodities should President William Ruto's proposed 16 percent fuel Value Added Tax (VAT) go through, they have been warned.
This is among the tax changes the Kenya Kwanza administration is pushing for, with more being included in the Finance Bill 2023, as Ruto tries to bring in as much as he can in taxes and levies.
The Daily Nation reports that the outcome will be more expensive products for the already struggling Kenyans. This will worsen the situation, considering that the cost of living is already a cause for concern.
The paper has also pointed out cases of doublespeak from allies of Ruto, who are now in support of the new tax policies despite having demonised them when Ruto was out of government.
The same group rejected a 1.5 percent housing levy, but is now supporting Ruto's 3 percent proposal. Among those who was very vocal then but is now silent is Chief Cabinet Secretary Musalia Mudavadi.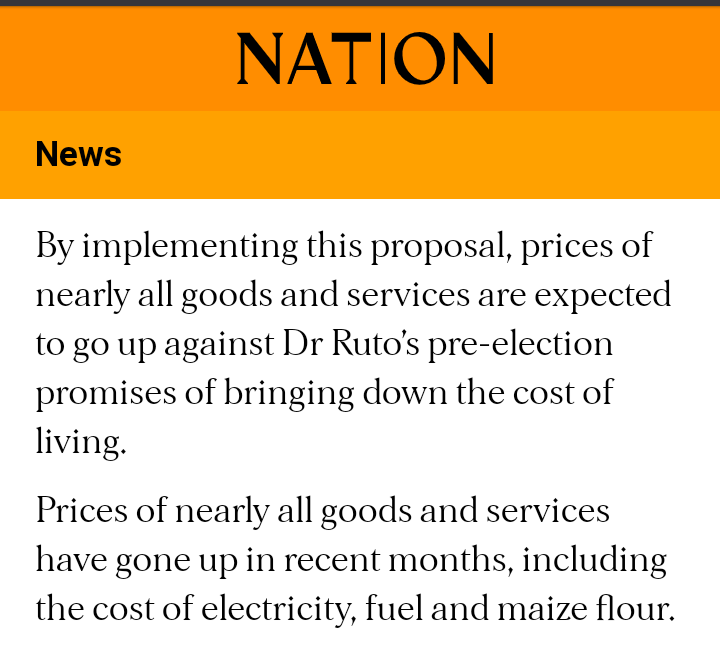 "The new 1.5 per cent house tax on Kenyan workers is insensitive and burdensome because you are taxing an already overloaded worker. It is also unlawful. This worker is already burdened by about the highest income tax in the world today; add to the value-added tax on a wide range of goods and services, load on levies on petrol and petroleum products; then bring in this new levy," he said in a presser.
Economist David Ndii, who was also opposed to the same, is now silent, and is actually seen as among the brains behind Ruto's new move, being the leader of the team advising him on economical matters.
"You are killing the goose that lays the golden egg. If this government is truly committed to affordable housing, it must make it possible for Kenyans to build houses affordably," he said.
Opposition leader Raila Odinga has pointed out that by proposing new taxes Ruto is going back on his promise not to burden Kenyans with taxes, a promise he made while seeking their votes.
Content created and supplied by: Curtis-Otieno (via Opera
News )