The former chairman independent electoral and boundaries commission Isaak Hassan has narrated the behind the scenes intrigues during the 2013 presidential election where the former president Uhuru Kenyatta defeated Raila Odinga and went on to form government.
Speaking to citizen TV on Wednesday night, Hasan explained how he tried to convince the former minister to concede defeat hoping that it would help the country move forward.
However, Raila's lawyers convinced him otherwise hence he ended up in the supreme court.
"I spoke at length to the Prime Minister to try and persuade him to concede because I thought concession would help the country. For some time I thought he was going to do that but he was advised by the lawyers that he had to exhaust all the dispute-resolution mechanisms that were there", said Hassan.
He further said that being an IEBC returning officer for a presidential election isn't an easy job as a lot can be said about you.
He revealed how the opposition alleged that Uhuru Kenyatta had bribed him with KSH 20 Million to rig Raila out in his favor.
"I was accused of being partisan to Uhuru some even accused me of taking money from Uhuru, they were talking about 20 million shillings. I recorded a lot of anecdotes about that, that I was found wearing a buibui going to South Sudan and trying to hide the dollars under the buibui", Hasan told Jeff koinange of citizen TV.
Hasan suggested that in future there should be some incentive for the runners-up in a presidential election to make it easy for them to concede defeat.
What do you think should be done for Kenyan leaders to have trust in the IEBC? Feel free to share your thoughts and comments on this on our comments platform.
Issack Hassan: I was accused of being partisan to Uhuru some even accused me of taking money from Uhuru, they were talking about 20 million shillings. I recorded a lot of anecdotes about that, that I was found wearing a buibui going to South Sudan and trying to hide the dollars… pic.twitter.com/PTKZo36iBN

— Citizen TV Kenya (@citizentvkenya) May 17, 2023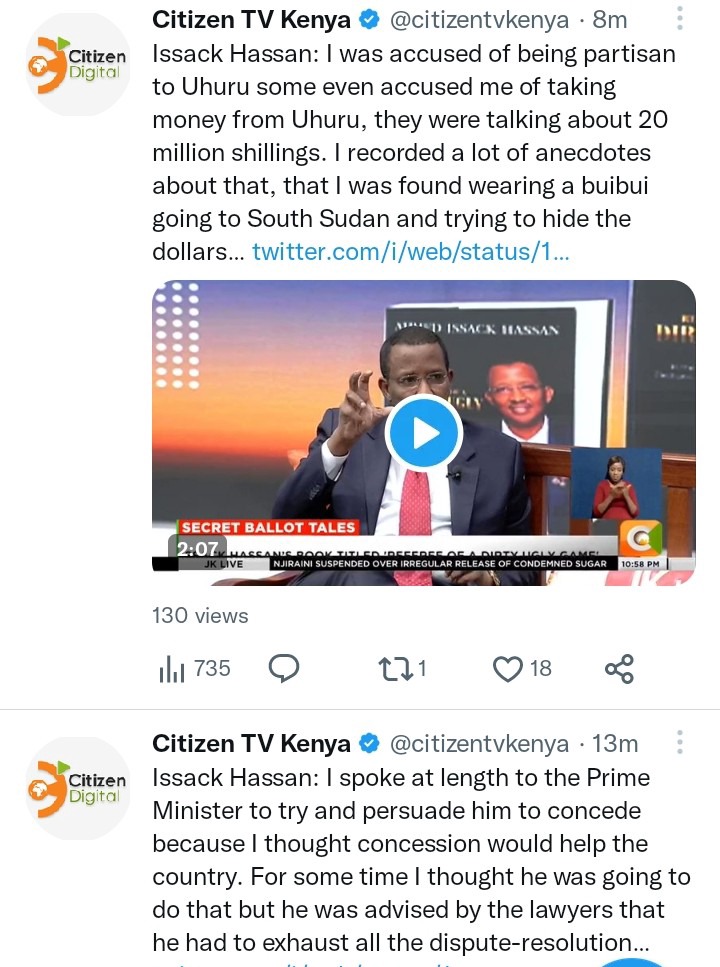 Content created and supplied by: @yokeabu (via Opera
News )