ODM Mbadi has launched an all-out crackdown against his ODM lawmakers who have declared support for President William Ruto.
The former Suba South Constituency member of parliament who has remained loyal to Raila for years declared that he is ready to fight back the politicians who have been attacking Raila in the region. Mbadi declared that he wi be leading the push back in the region noting that the politicians can not be left to Keep spreading propaganda about Raila.
In what is likely to result in major political casualties and shifting of political alliances Mbadi said the party has indicated its readiness to crash rebels within its ranks to maintain discipline within the outfit.
"A party has to fight for it's space. There are these turncoats who want to show that Rails had done nothing it is our plan as a party to engage them" the nominated member of parliament told a local publication.
Mbadi said they have started with the "big fish" and will soon move down to all members who appear to defy party's rules.
Mbadi declared that the food distribution exercise being done in the Luo Nyanza region must not be politicised.
Mbadi said under the new constitution opposition Members of Parliament (MPs) don't need to kneel before the government to get development projects for their constituencies since the constitution guarantees them funds for development.
"Let them do what they are doing but they will soon meet a push back, I will be leading the push-back in Nyanza" the tough talking Mbadi added noting that the food distribution was once politicised by former President The late Daniel Moi but it did not succeed.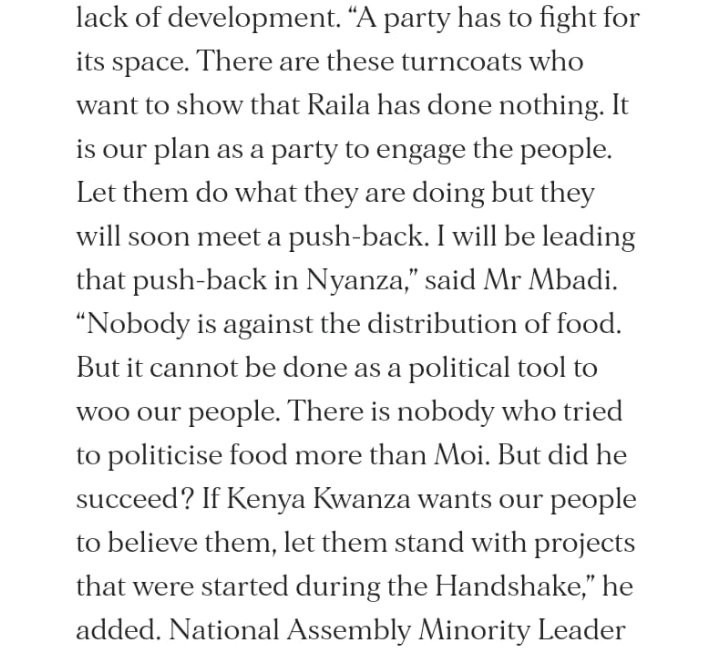 The lawmaker added that MPs who want to talk to the president on issues that affect the party must seek permission.
Mbadi's remarks come at a time a number of politicians have been crisscrossing the Luo Nyanza region promoting the agenda of President Wiliam Ruto. Majority of these leaders are former elected leaders who are against Raila and the Orange Democratic Movement party.
Content created and supplied by: ouchoh (via Opera
News )