Deputy President Rigathi Gachagua's recent statement regarding the Kenya Kwanza administration's ambition to transform the United Democratic Alliance (UDA) into the nation's largest political party, ruling for the next century, has generated a mixed response. Notably, Alfred Keter, the former Nandi Hills member of parliament, took to Twitter to express his thoughts on Gachagua's remarks.
Keter suggested that the Kenya Kwanza Alliance regime might serve only a single term in office, unlike previous administrations. As a prominent political figure hailing from the Rift Valley region, Keter's opinion carries weight in political circles. Having amassed significant experience in the realm of politics, his perspective adds to the ongoing discourse surrounding Gachagua's assertion.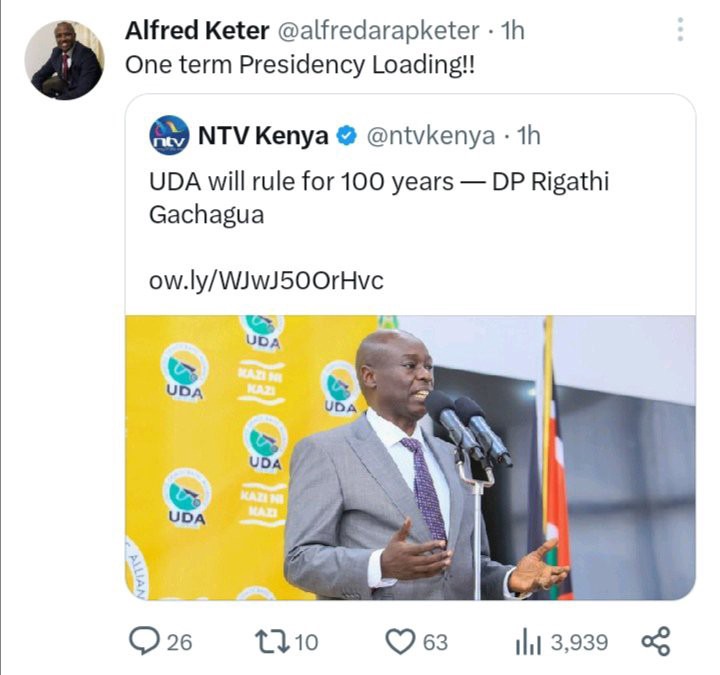 The Kenya Kwanza administration's goal of establishing the UDA as a dominant political force for the next century has generated diverse viewpoints, underscoring the varying opinions within the political landscape. Gachagua's remarks have sparked considerable debate and speculation, leaving room for further discussions on the potential trajectory of the Kenya Kwanza Alliance regime and the future of political dynamics in the country.
Content created and supplied by: IamTheRealest (via Opera
News )