The ongoing power struggle within the former ruling coalition Jubilee Party has intensified between allies of President William Ruto and former President Uhuru Kenyatta.
The division revolves around the control and management of the party, which is currently led by the former head of state.
Experts have now shed light on why President William Ruto is fiercely interested in assuming leadership of the Jubilee party and is determined to oust his predecessor from the position.
https://twitter.com/Taifa_Leo/status/1660362429224591361?t=wHAS8_pgzPsDDzOVad2gjA&s=19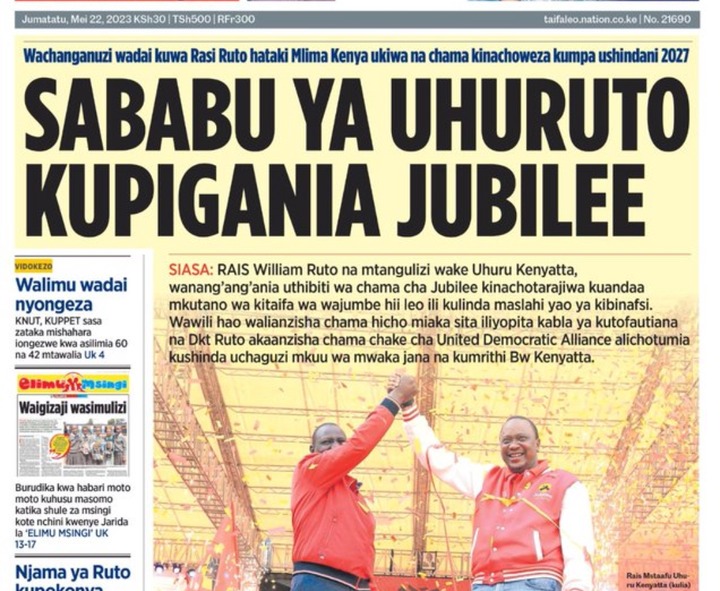 According to these experts, President William Ruto is concerned about the possibility of the Mt. Kenya region forming a separate party that could potentially pose as a strong competitor in the 2027 general elections.
They argue that Ruto wants to minimize any potential opposition from the region, as it would pose a significant challenge for his presidential ambitions.
These revelations come at a time when President Ruto has made efforts to obstruct the venues where the Jubilee Party's National Delegates Conference (NDC) was scheduled to take place.
The Bomas of Kenya, initially selected as the venue for the NDC, announced that it would be undergoing renovations, rendering it unavailable to host the conference. Sources indicate that attempts to secure Moi International Stadium Kasarani and Nyayo Stadium were also unsuccessful, as permission to use these venues was denied.
President Ruto's determination to control the Jubilee Party leadership and his efforts to prevent the NDC from taking place suggest a deep-rooted interest in shaping the party's direction and ensuring his own political advantage.
Content created and supplied by: J.M. (via Opera
News )