President William Ruto's new onslaught on Kenya Medical Supplies (KEMSA) has been tribalized, according to former MP Kabando Wa Kabando, who has reprimanded lawmakers who are linked with Azimio la Umoja.
Azimio has been instructed by Kabando to put an end to the KEMSA crackdown's tribalization and concentrate on other pressing issues.
He has said that due to President Ruto's dedication to battling corruption, the crackdown at KEMSA deserves nothing but praise.
"We've criticized Ruto for his tribalized state appointments RIGHTLY. Currently, some in Azimio are ethnicizing Ruto's response to the KEMSA incident. The biggest threat to cohesion and prosperity is tribalism, which is also characterized by graft from all the terrible people. Rais Ruto should be commended for his work with KEMSA. declared Kabando.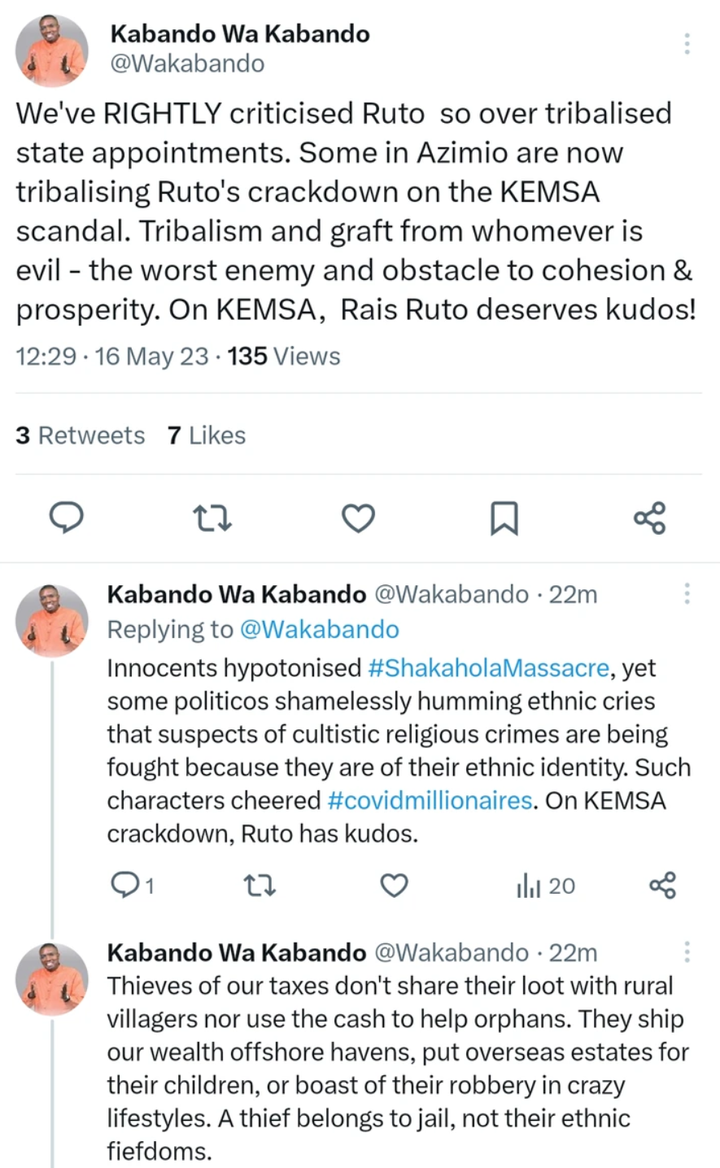 In order to advance public interests, Kabando has advised Azimio to align their conflicts and refrain from opposing or supporting vested interests out of self-interest.
In response to the NYS, Pandora Papers, and KEMSA scam, he has said that people who supported Uhuru should sit down.
He has also asked the Raila Odinga-led faction to put its efforts on preventing the 6% forced house tax and to leave Ruto alone.
https://twitter.com/Wakabando/status/1658404383208374274?t=gtuPhZtZQoscK6uwq1CIew&s=19
"Those who defended Uhuru and cheered over the NYS #Pandorapapers #covidmillionaires #KemsaHeist should sit down. Focus on stopping the 6% forced house tax, say my former Azimio coworkers. Support Ruto's efforts on KEMSA or give him space to succeed where "our" UhuRao fell short, he says.
Content created and supplied by: Kingdom (via Opera
News )