On May 21, civil society organizations protested Noordin Haji's nomination to lead the National Intelligence Service (NIS) under the National Integrity Alliance (NIA) banner.
NIA cited Haji's allegedly compromised background and failed to uphold his constitutional duties while acting as the Director of Public Prosecutions (DPP) during a press conference held in a Nairobi hotel.
Part of the NIA statement was that "Haji has in the past displayed egregious misconduct, incompetence, and non-compliance with the Constitution of Kenya 2010, specifically Chapter 6 on Leadership and Integrity."
When Haji was the DPP, NIA brought up corruption cases that were abandoned because to a lack of proof. 
Deputy President Rigathi Gachagua and nine others were charged in a Ksh7.3 billion case. Wambui Mary, the chair of the Communications Authority of Kenya, was charged with Ksh2.2 billion in tax evasion, while Aisha Jumwa, the chief secretary of the Ministry of Public Service, Gender, and Affirmative Action, was charged with Ksh19 million in bribery. 
If the eight cases that the DPP dismissed had been successfully resolved, according to the civil society, the government would have recovered roughly Ksh11.3 billion.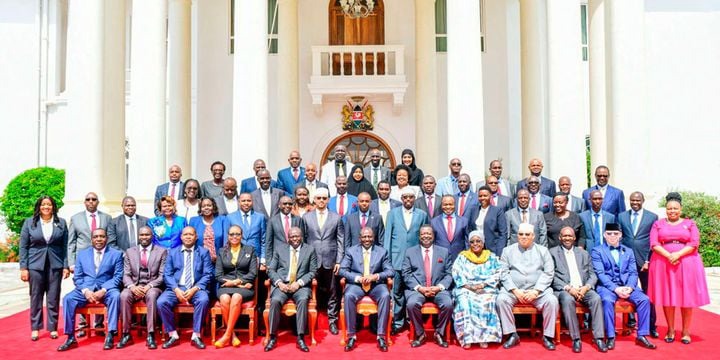 According to Sheila Masinde, Executive Director of Transparency International Kenya, Haji was politically influenced and lacked objectivity when making decisions about corruption charges.
"The withdrawal of charges against specific individuals who have obvious political connections without withdrawals against their co-accused as evidenced in several instances shows that he failed to ensure that decisions are not influenced by favoritism, other improper motives, or corrupt practices." narrated Masinde. 
On May 16, DPP Noordin Haji was proposed by President William Ruto for the position of Director-General of the National Intelligence Service (NIS). 
After serving as the DPP for six years, Haji would rejoin the NIS, according to a statement from Felix Koskei, the head of the public service and chief of staff.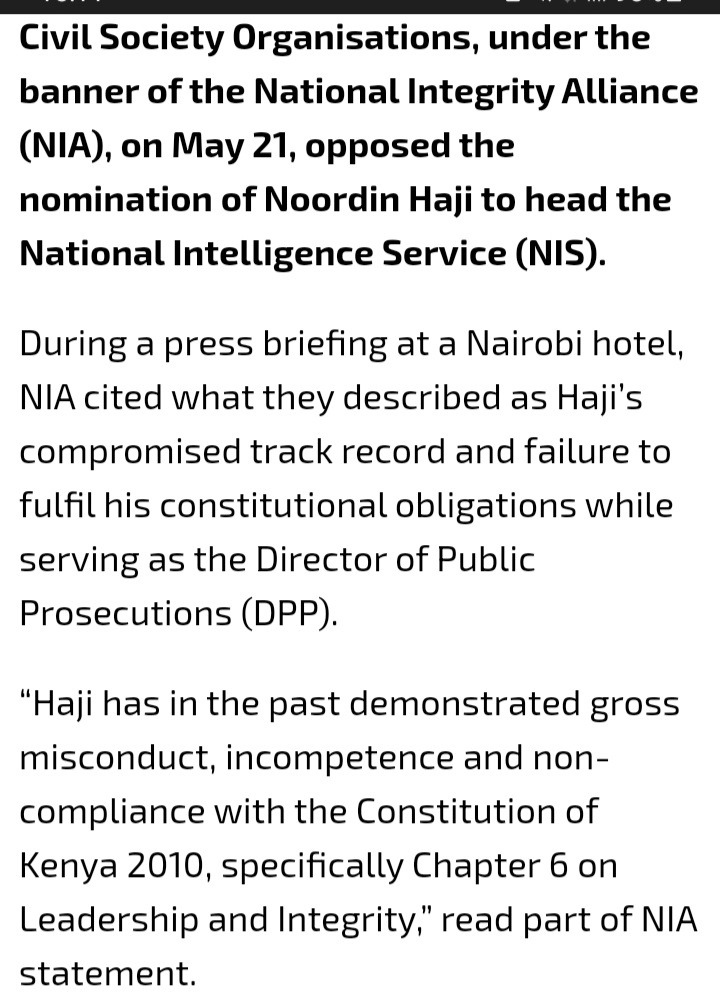 On May 19, attorney Khatherine Cherotich filed a legal challenge against Ruto's choice of Haji to be the NIS's next director general.
Due to what she deemed to be a violation of Chapter Six of the Constitution, Cherotich contested Haji's appointment as the senior spy.
The attorney filed a petition at the Nakuru High Court, requesting that the judge impose orders halting the recruitment process.
Cherotich also named the Public Service Commission and Attorney General Justin Muturi as respondents in the petition.
Content created and supplied by: JobW (via Opera
News )