In a remarkable turn of events, Seun Kuti, the renowned Afrobeat artist and son of the legendary Fela Anikulapo-Kuti, has found himself assuming an unexpected role behind bars. Currently remanded at the State Criminal, Investigations and Intelligence Department (SCIID), Panti, Yaba, Lagos, following an altercation with a police officer, Seun has been crowned the 'General Overseer' by his fellow inmates.
In an intriguing display of camaraderie, a copy of the Holy Bible was ceremoniously presented to Seun, symbolizing his new position of authority within the cell. However, this appointment did not come without its fair share of drama, as the inmates initially resisted the idea.
Unfazed by the resistance, Seun made a tempting offer to his peers, pledging to provide them with ₦25,000. A challenge was issued, and Seun swiftly reached out to his wife, pleading for her assistance. Soon enough, the money was delivered, and the inmates relented, accepting Seun as their leader.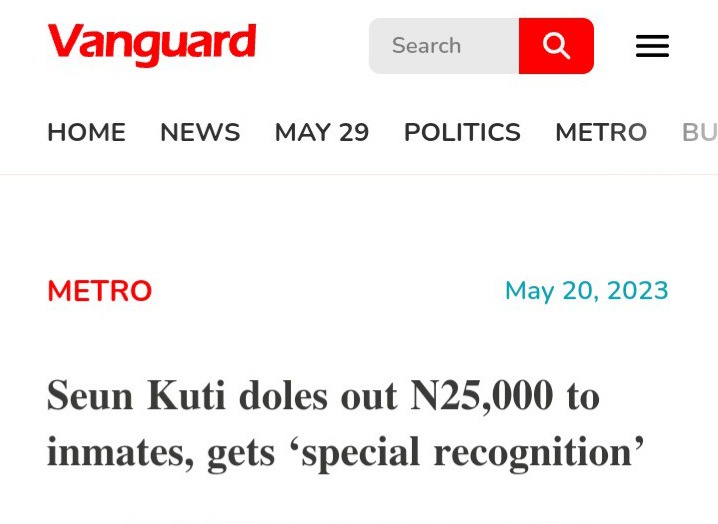 Vanguard reports that throughout this ordeal, Seun's emotions ran high, leading him to refuse sustenance, even rejecting the meals lovingly brought by his wife. For almost a day and a half, he steadfastly engaged in a hunger strike, until hunger ultimately overcame his determination, and he resumed eating.
However, the most extraordinary twist in this tale occurred when the inmates, recognizing Seun's leadership qualities and resilience, bestowed upon him the title of 'General Overseer.' With the Bible firmly clutched in his left hand, Seun climbed the stairs to the office of Deputy Commissioner of Police, Waheed Ayilara, before being led back to his cell.
Seun's visitors have included his elder brother, Femi, along with other family members, lawyers, and close friends who have shown their unwavering support during this challenging period.
Source: Vanguard
Content created and supplied by: David.J (via Opera
News )