Nollywood actress Jennifer Eliogu has said that her father wanted her to be a lawyer, but she followed her heart and became an actress. Eliogu, who is known for her roles in movies such as "The Wedding Party" and "The Arbitration," said she always wanted to be an actress, even as a child.
"I used to watch movies and TV shows all the time, and I would always dream of being on screen," she said.
"When I was in secondary school, I joined the drama club and I knew that this was what I wanted to do with my life."
Eliogu's father, however, was not supportive of her decision to become an actress.
"He wanted me to be a lawyer," she said. "He thought that it was a more stable career path."
But Eliogu was determined to follow her dreams, and she eventually convinced her father to let her pursue a career in acting.
"I told him that I would still be able to make a good living as an actress," she said. "And I also told him that I would be happy."
Eliogu's father eventually came around, and he is now one of her biggest supporters.
"He is so proud of me," she said. "And he loves my work."
Eliogu is now one of the most successful actresses in Nigeria, and she has no regrets about following her dreams.
"I am so happy that I did," she said. "I love my job, and I love making people happy."
Eliogu is an inspiration to many young people who dream of pursuing a career in the arts. She is proof that it is possible to achieve your dreams, no matter what your parents think.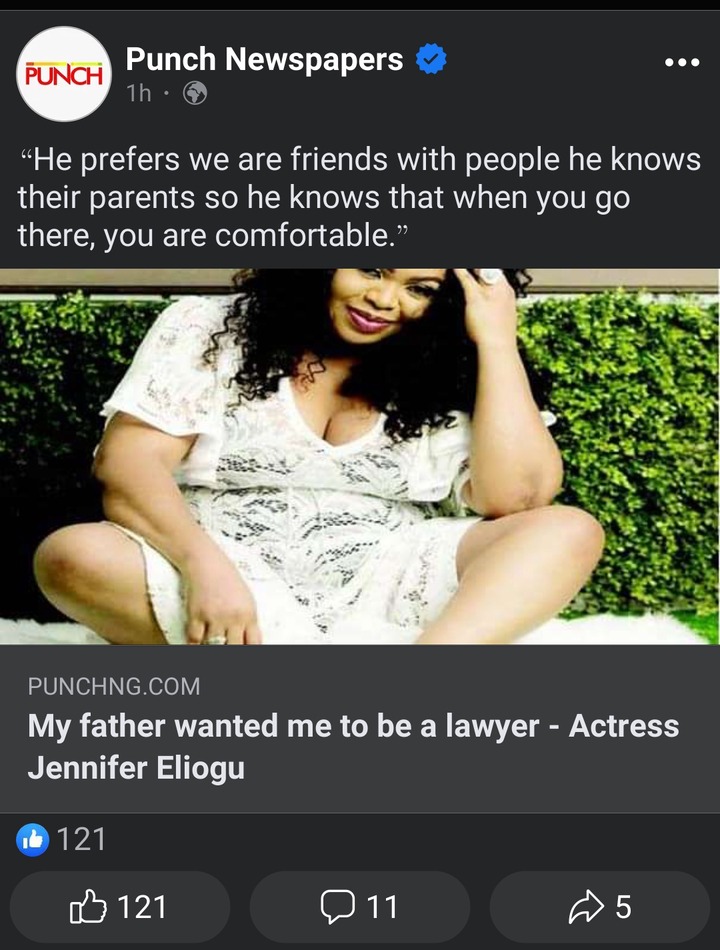 Source: Punch Newspaper
Content created and supplied by: EngrLas (via Opera
News )