According to Lindaikejisblog. Seun Kuti, an Afrobeat singer and the son of the late Afrobeat legend Fela Anikulapo-Kuti, has been appointed as the 'General Overseer' of his prison cell by the inmates.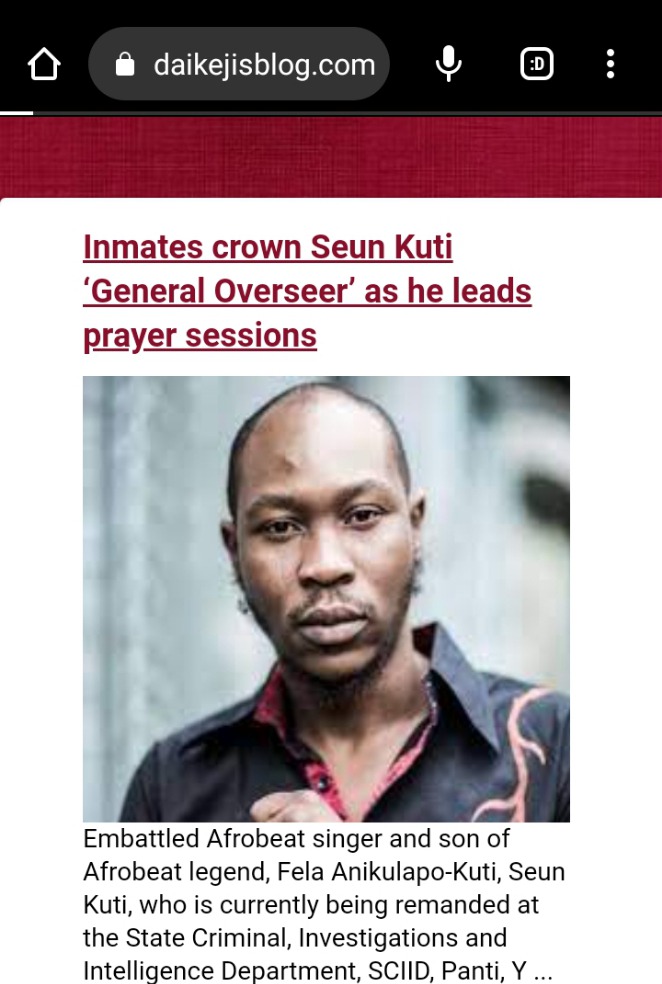 Currently, Seun is being held at the State Criminal Investigations and Intelligence Department (SCIID) in Panti, Yaba, Lagos, following his arrest for assaulting a police officer, as ordered by the Yaba Chief Magistrate Court.
Initially, there was some drama surrounding his appointment as the General Overseer, with the inmates rejecting him.
However, after negotiations and a monetary offering of N25,000, the inmates accepted him and provided him with a space to sit.
As a symbol of his authority, a copy of the Holy Bible was handed over to Seun.
The situation took a negative toll on Seun, who went on a hunger strike and refused to eat the provided food, including the meals brought by his wife.
After approximately a day and a half, he finally started eating.
Amidst this dramatic turn of events, the inmates eventually crowned him the General Overseer of the cell, and he leads them in prayer sessions.
During a visit to the office of the Deputy Commissioner of Police, Seun was seen tightly clutching the Bible in his left hand. He was later escorted back to the cell.
Visitors to Seun include his elder brother Femi, other family members, lawyers, and friends.
Content created and supplied by: smarthusstle (via Opera
News )