In the past few hours or so, celebrated Kenyan singers Nadia Mukami and Arrow Bwoy have left netizens talking.
This is after the former took to her Instagram account and shared a short video clip, where she was spotted serving the latter some food that she had prepared, and a glass of water too while on her knees.
Photo: Nadia Mukami and Arrow Bwoy
According to Nadia Mukami she had spotted this being done by women in Uganda, whenever they would greet a man or serve them food.
The Maombi hit maker said that she was this when she had gone to visit her in-laws i.e the family of Arrow Bwoy some few weeks ago.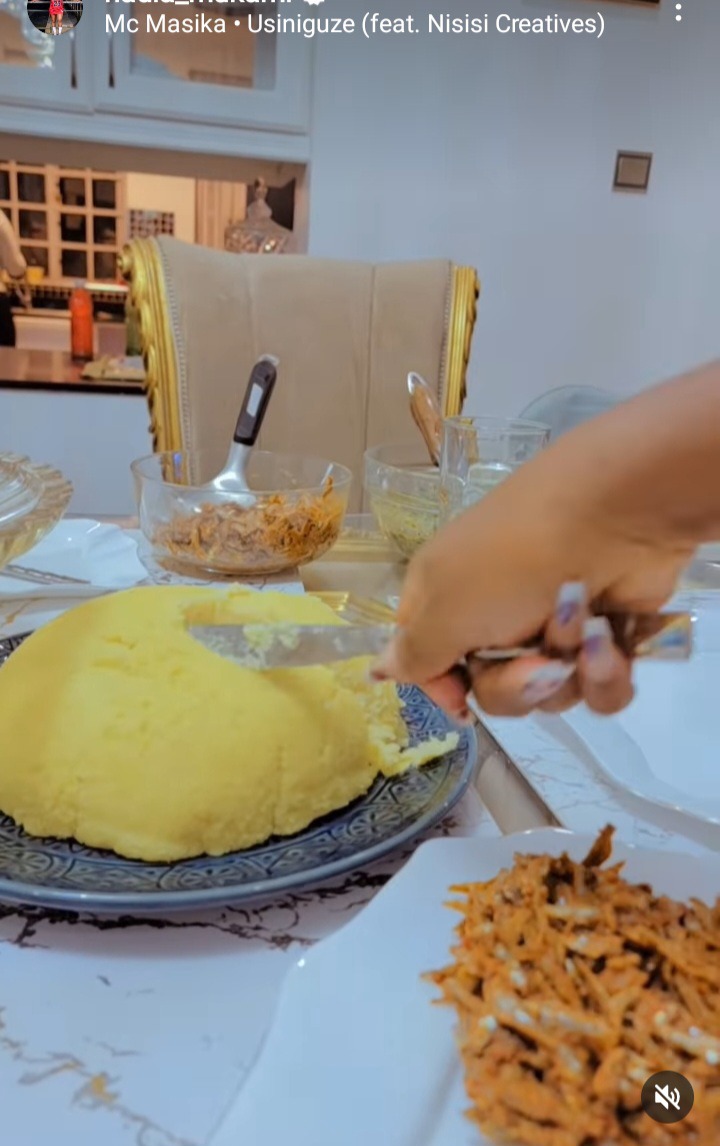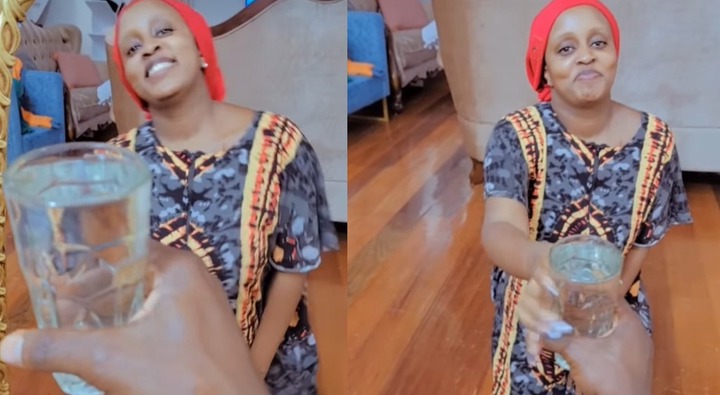 Even though Nadia Mukami termed it as a culture shock, she made it clear in the comment section of the post that she will be doing this for the love of her life Arrow Bwoy.
The 'Jango Love' hit maker however responded to her actions by appreciating it, and by saying that now her bride price had gotten higher.
"😁😁😁😁 aaaaah ahh shetani amepita @nadia_mukami dowry price imepanda sasa 😂" he wrote.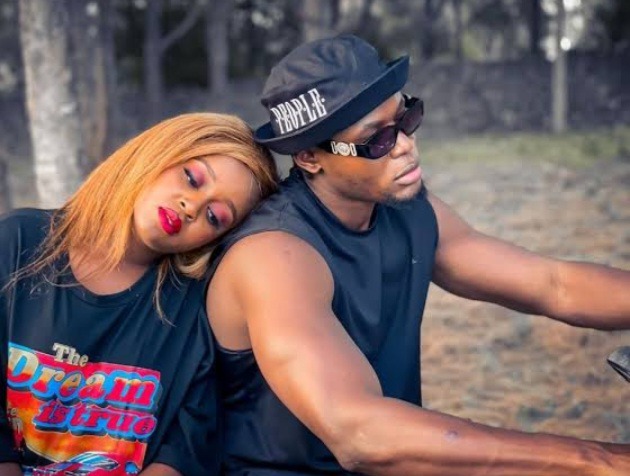 "When I went to @arrowbwoy's shagz I saw in-laws from his side kneel down when greeting elders or when serving your husband, that was my culture shock ya Uganda…" she wrote in part.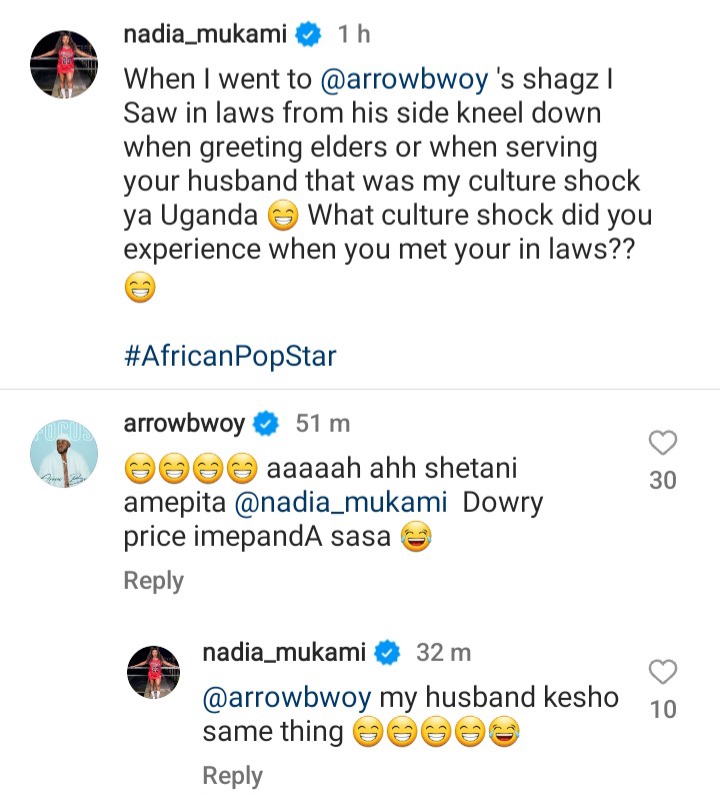 As mentioned above the video left netizens talking, and below are some of their reactions.
@officialiyanii wrote:
"Jamani kupendwa raha".
@sosuun wrote:
"Uko sawa kabisaaa 😍👏🏾😂".
@vannexkenya wrote:
"Acha tu nikae na hizi gangster za hapa kwetu 😂".
@manuu_tiko wrote:
"Hata wewe hauamini hadi unajicheka 😂😂😂".
@annie_kashort wrote:
"😂😂😂😂imeeza mehnn😂😂 unataka kuturudisha enzi gani?😂.
Here is the link
https://www.instagram.com/reel/CsbzwbYIqjP/?igshid=NTc4MTIwNjQ2YQ==
The Ugandan culture
What Nadia Mukami did in the video is indeed true, and it is a culture that makes Ugandan women famous for their hospitality and humility.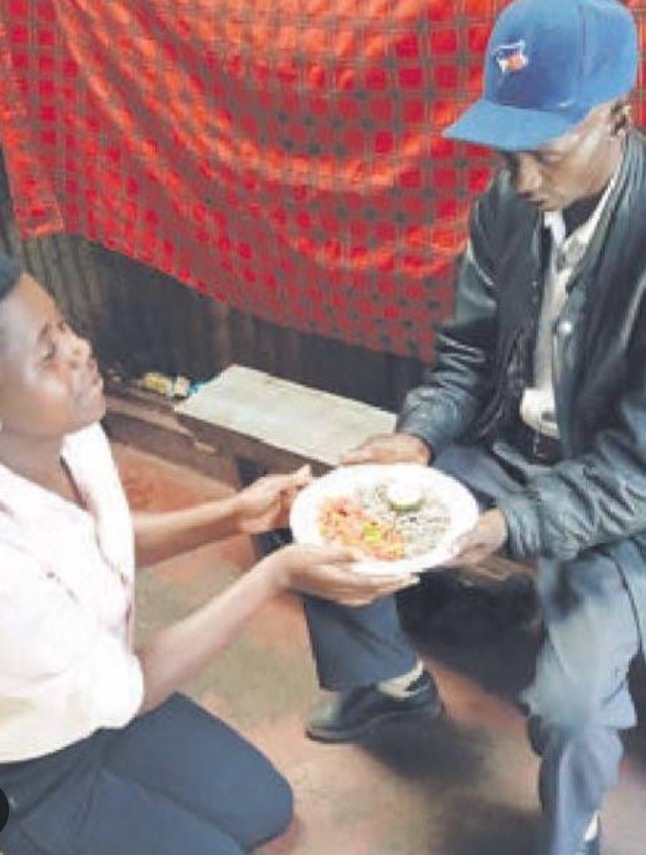 Photo: courtesy
According to reports it is an age-old tradition among the Baganda people of Uganda, and it is a way of also displaying affection and appreciation.
A Ugandan woman is therefore expected to greet a man while kneeling as a sign of respect. The same should happen when she serves him food.
If a man is given some water to wash their hands, then the woman will wait while kneeling until he finishes.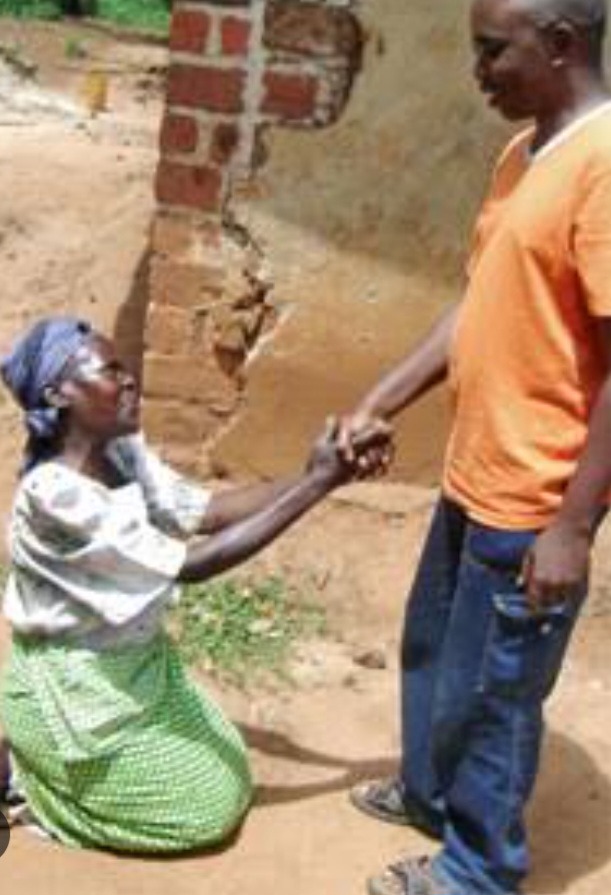 Photo; courtesy
The culture has however always left people talking for decades now, with many airing different opinions with regards to whether it is right or not.
Content created and supplied by: Liwiwriter (via Opera
News )