Apoko Spotted Wearing a Fake Gucci Jacket" height="470″ width="720″ style="font-size: 0.16rem;"/>
 Ringtone Apoko Spotted Wearing a Fake Gucci Jacket
The self proclaimed chairman of gospel music industry in Kenya, Ringtone Apoko , caused stir online, after he was caught wearing a fake Gucci label jacket, and walking around comfortably with it.
Ringtone who always claims to be a billionaire, was caught on camera by 2Mbili, who was secretly filming how Apoko was struggling to jumpstart his mercedes benz. 2mbili noticed that Ringtone was wearing a fake Gucci Jacket, he decided to zoom it and showed people that indeed it was fake.
The jacket had a Gucci label, but the name Gucci wasn't written well. Instead of Gucci, the name on it was GUGCI . There is no a brand with such a name, this clearly shows that Ringtone bought a fake jacket.
For a celebrity of his capacity, it is just embarrassing to see him wearing fake and cheap things. He always brags how he is worth millions, and how he imports clothes from abroad.But from the video that was captured by 2mbili, it is evident that sometimes Apoko fakes his lifestyle. There is no way a brand like Gucci can sell you a fake product, the jacket was just locally obtained.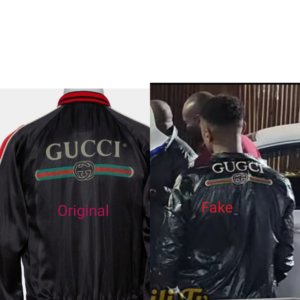 Watch Video here.
Godfrey Munoko
Content created and supplied by: 254SportsAnalystGoddy (via Opera
News )