Controversial Kenyan Gospel singer Ringtone Apoko has landed himself into hot soup.
This is because just few hours ago a netizen accused him of having hit her car, and then went away without even paying for the damages.
Photo; Ringtone Apoko
The netizen by the moniker of Nyambura Kiarie claimed on her Twitter account that the incident happened sometime on Friday, along Riverside Drive in Nairobi.
According to Miss Nyambura, Ringtone intentionally accelerated his car and this led to him ramming into her car from behind.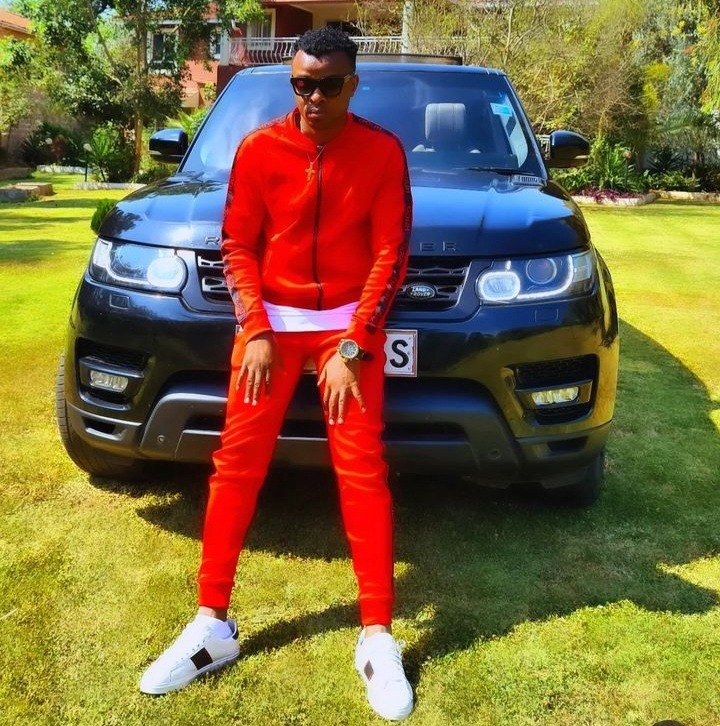 When she confronted the award-winning singer about it, he was allegedly rude to her to extent of even threatening to beat her up.
"Earlier today, I got hot by Ringtone Apoko, along Riverside Drive!
Apart from calling me names, he said he wasn't going to pay for the damages he caused, and there's nothing I was going to do about it 😒.
Besides threatening to beat me up, he almost threw my phone because he suspected I was recording him.
He then fled from the scene leaving me with my dented 'plastic' as he called it" she wrote.
Nyambura Kiarie further posted her car that Ringtone had allegedly hit, and what was clear is that it was some white car of Toyota brand.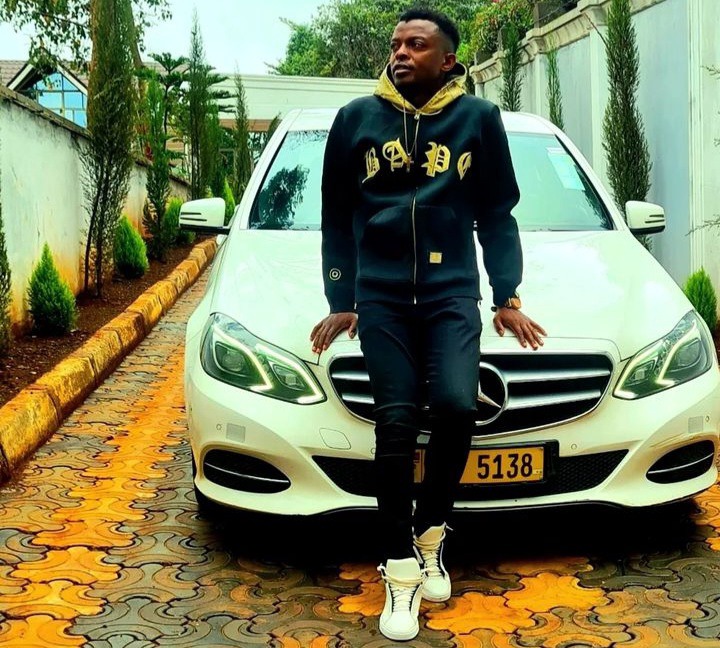 In the comment section of her post, she further described the car that Ringtone used to hit her with, and said that it was a Mercedes-Benz that had a Malawian number plate.
Nyambura Kiarie also disclosed that she had already reported the matter to a police station, and she had already even been given the accident abstract.
She had also reported the accident to her insurance company, and that they will pick the car sometime today.
Here are her posts.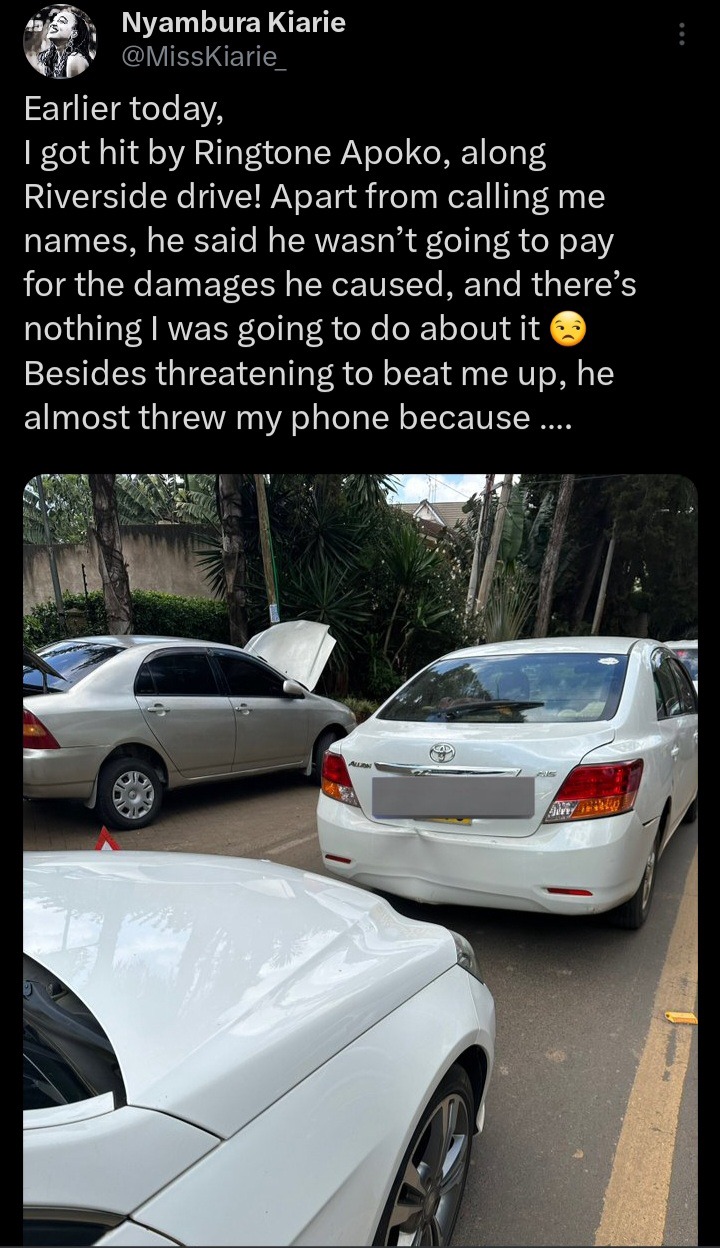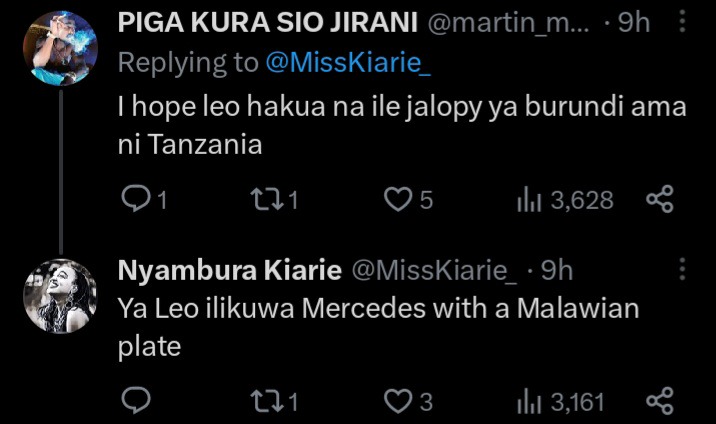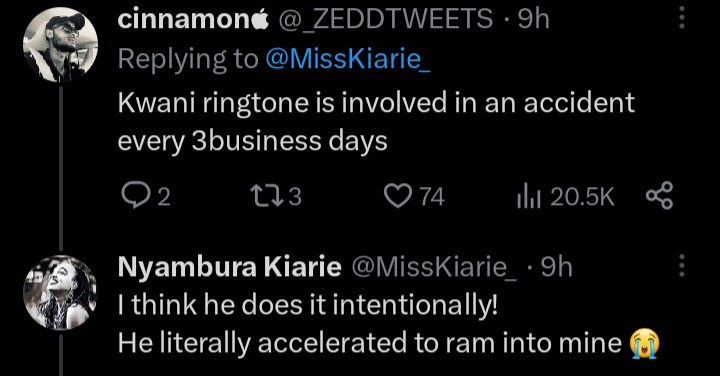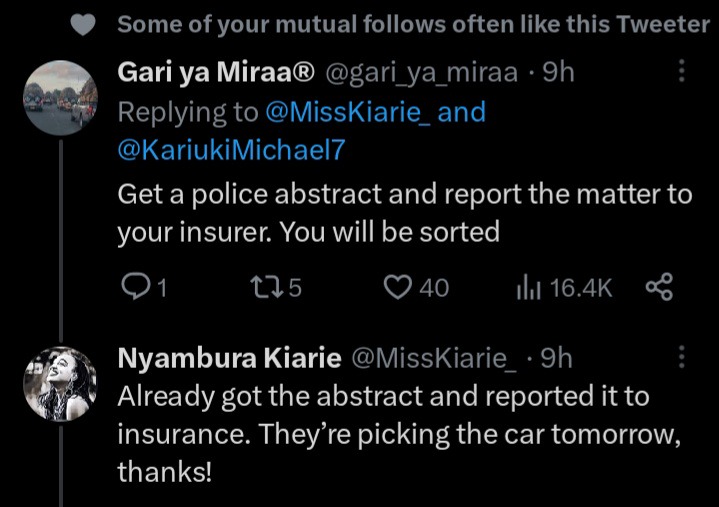 Ringtone however is yet to respond to the allegations, and therefore we will update you as soon as he does.
Content created and supplied by: Liwiwriter (via Opera
News )