The Beef between ex lovers , Rayvanny and Paulah Kajala is getting messy and nasty, the two love birds are throwing shades at each other as they try to prove to the public who is guilty and who is innocent.
The two parted ways several months ago, under unclear circumstances, because Rayvanny just woke up all over sudden and said that he is no longer dating Paula Kajala and he has reunited with his baby mama Fahyma.
After Rayvanny claimed that the main reason for his breakup with Paula Kajala was infidelity issues, and that Paula slept with his best friend, Paulah Kajala has come out openly to defend herself.
Speaking via her official Instagram page stories, Paulah said that , Rayvanny is the reason why the two parted ways. He found her pure, broke her virginity, then he started cheating on her with her best friends. Paulah claimed that Rayvanny used to seduce her close friends.
She said that what hurted her most is when Rayvanny paid her employee at her shop Tsh150,000 and slept with her. This was a disrespect and it was the end of their relationship.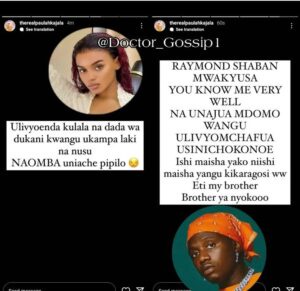 Paula reveals why she broke up with Rayvanny.
Paulah used vulgar language and insult to expose Rayvanny and reveal to the world that Rayvanny isn't a faithful man. She even said that Rayvanny used to sleep with her and also sleep with his baby mama Fahyma.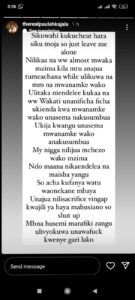 Paula reveals why she broke up with Rayvanny.
According to Paulah, Rayvanny didn't want to let Fahyma go and also he didn't want Paulah to go, so he used to play tricks with both of them, till the minute Paula realised that Rayvanny was in a very intimate relationship with his baby mama Fahyma.
Godfrey Munoko
Content created and supplied by: 254SportsAnalystGoddy (via Opera
News )