LOS ANGELES, CALIFORNIA: Devin Booker of the Phoenix Suns took a jab at Bad Bunny on March 17 after he appeared to mention Kendall Jenner in his new reggaeton song "Coco Chanel". This comes after Bad Bunny seemingly shaded Kendall Jenner's ex Devin Booker in a new song.
Recently, Justin and Hailey Bieber went on a double date with Bad Bunny, 29, and Kendall Jenner, 27. The previously rumored couple has now somewhat made their romance evident as they were seen kissing on the double date and also on several other paparazzi moments. They also left an Oscars party in the same car.
RELATED ARTICLES 
Kendall Jenner and Bad Bunny spotted having 'flirty vibe' together in LA amid rumors of romance
Is Kendall Jenner dating Bad Bunny after Devin Booker split? Fans freak out after couple allegedly spotted 'making out' at LA club
A jab in disguise 
While Booker was thought to be dating model Kendall, some believe Bad Bunny took a shot at him. Bad Bunny says in Spanish, "I'm not a bad baby, that's a gimmick / But the Puerto Rico sun is warmer than the one in Phoenix" in a stanza of Eladio Carrión's song "Coco Chanel." He also sings, "Puerto Rico's sun heats up more than Phoenix's, and she knows it," in his new song with Eladio Carrion.
From April 2020 through October 2022, Booker, a basketball player for the Phoenix Suns, dated Jenner intermittently. That wasn't the only indication, though, that Jenner might have been the subject of Bad Bunny's song. The rapper makes reference to the fact that "Scorpios are dangerous" in another verse, which also happens to be Jenner's sun sign.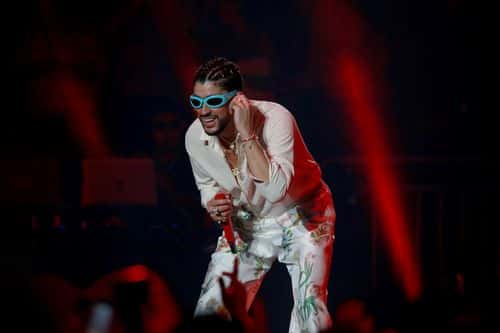 Bad Bunny and Booker beefing 
Several fans thought Booker was alluding to the time Bad Bunny kissed one of his male dancers on stage since he typed "MAN" in all caps. We'll have to wait and see how this love triangle turns out, but it appears that Booker might not be ready to end things just yet.
Since they were spotted out to dinner last month, the Puerto Rican musician, 29, and Jenner, 27, have been the subject of latest relationship rumors. Days later, Booker unfollowed Jenner on Instagram, possibly heralding the beginning of his rivalry with the "Me Porto Bonito" singer, even if it was unclear if the two were simply dining as friends at the time.
A not-so-hidden romance
During yet another night out on the town, Bad Bunny, real name Benito Antonio Martnez Ocasio, was seen hugging the 'Kardashians' star. Kylie and their close pal Taco, whose actual name is Travis Bennett, joined the duo.
Even though they arrived and left in different vehicles, the alleged pair parted ways with one another in a tender embrace that may have even included a smooch. If that wasn't enough proof of their relationship, the two were photographed exiting Beyoncé and Jay-2023 Z's Oscars afterparty together on Sunday night.