Ezekiel Odero's lawyer Cliff Ombeta has been making headlines on social media after he defended Ezekiel in court ensuring that he was released on cash bail.However,his argument about the transaction between Paul Mackenzie and Ezekiel Odero has drawn more interests from readers. According to Ombeta, Mackenzie and Ezekiel had agreed to do a TV business where Mackenzie was to sell a TV station to Ezekiel.
According to his argument, Mackenzie had demanded 3 million Kenyan shillings for the TV. On the other hand,Ezekiel agreed to deposit 500k first.However,as soon as Ezekiel had deposited the agreed amount,Mackenzie chose to change the price and demanded 5 million Kenyan shillings instead of 3 million. Ezekiel decided against the new price and told him that he was no longer interested in it.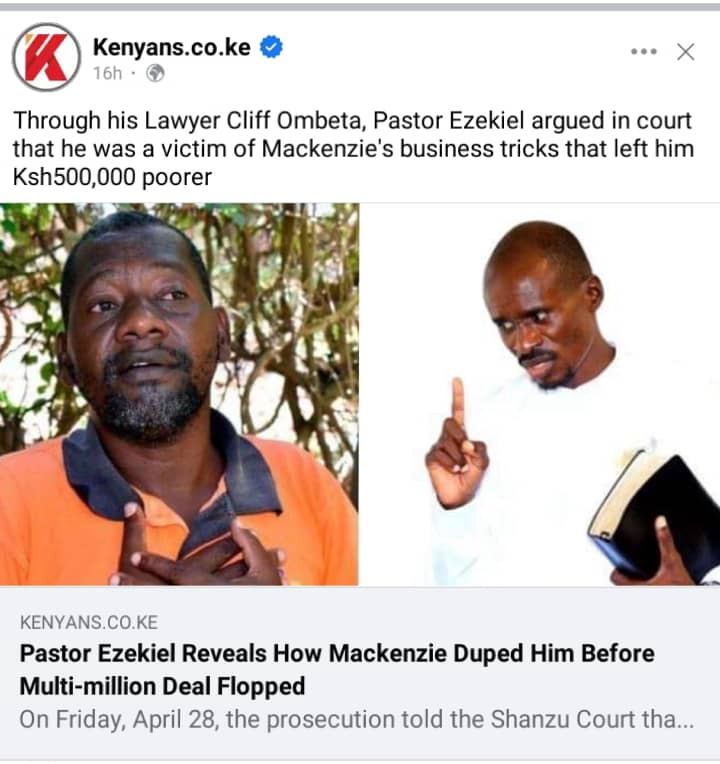 That is how their deal fell through. Ombeta asked the government to stop allegations over Ezekiel. He argued that Ezekiel was innocent and that he was being thrown in to stories that are not his.What is your take on the news?Let me hear your comments in the comments section below. For more news updates tap on the follow link on the top right corner if you haven't done so to receive more news.
Content created and supplied by: Phobysports (via Opera
News )