Prior to his burial on May 27, comedian Duncan Ochonjo of Njoro Wa Uba's body will be transported to his home in Sondu.
An evening vigil for the deceased actor was organized at the Kenya National Theatre by Kenyan performers, comedians, and TikTokers.
Drama sprang up, though, as the late Ochonjo's friends began berating one another for abandoning him in his hour of need. As a result, one individual was expelled from the event. 
Moments after TikToker Mike Wako finished speaking to the actors present at the vigil to honor the life of the deceased, Sandra Dacha and he went off on each other.
In a video posted by Faydee Kenya on Facebook, Wako is shown sternly admonishing the musicians who had agreed to earn money for Ochonjo's funeral but had refused to give it until they arrived at the burial.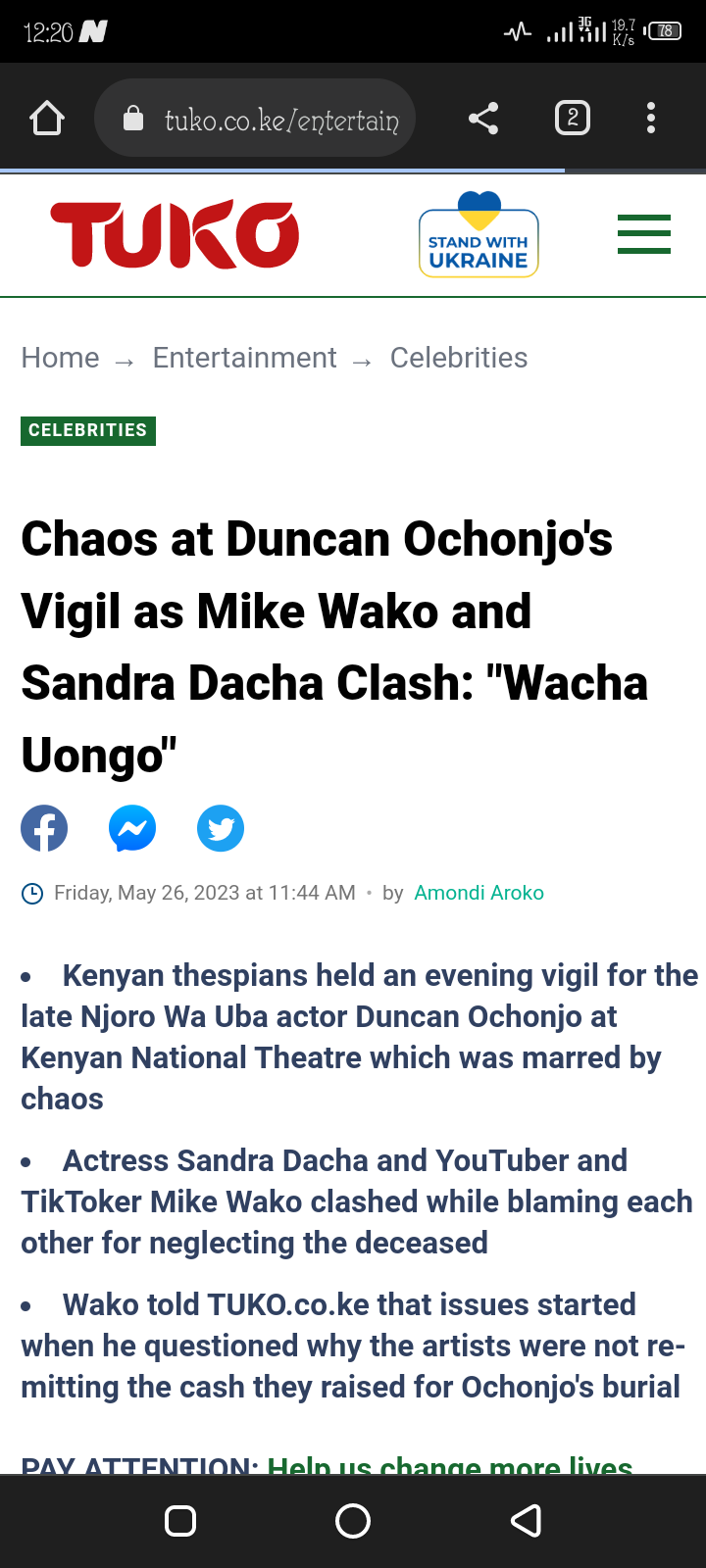 Wako addressed the thespians who were listening to him as Sandra yelled, "hio ni uongo buana!" 
Wako expressed disbelief that Sandra acted in such a way and at a vigil in an interview with TUKO.co.ke. 
"It was a small misunderstanding and this is not the right time for a blame game. I was just addressing people and Sandra cut me off which I saw was disrespectful of her. She was given a chance to talk and no one interrupted her but when I was talking she acted very immaturely. I don't want issues with her. All artists were there, Jalang'o was there and all of them were exposing the death of Ochonjo while comparing his death with that of Othuol Othuol. I thought that it was bad because this was a dead person," he said.
Wako added that they were able to donate money to the committee via TikTok and questioned the musicians' refusal to disclose how much they had managed to raise for the purpose of assisting with burial arrangements.
Content created and supplied by: Omenya (via Opera
News )