In a recent development surrounding the mysterious death of fashion designer Jeff Mwathi, a court has issued a new order for the establishment of an inquest.
This order comes after Mugithi singer Lawrence Njuguna, popularly known as DJ Fatxo, was cleared of accusations related to the murder due to a lack of sufficient evidence linking him to the crime.
The Directorate of Criminal Investigations (DCI) concluded their investigations into the death of 23-year-old Jeff Mwathi, who passed away under unclear circumstances on February 22, 2023.
As a result of the investigation findings, DJ Fatxo has been relieved of any charges that he could have faced.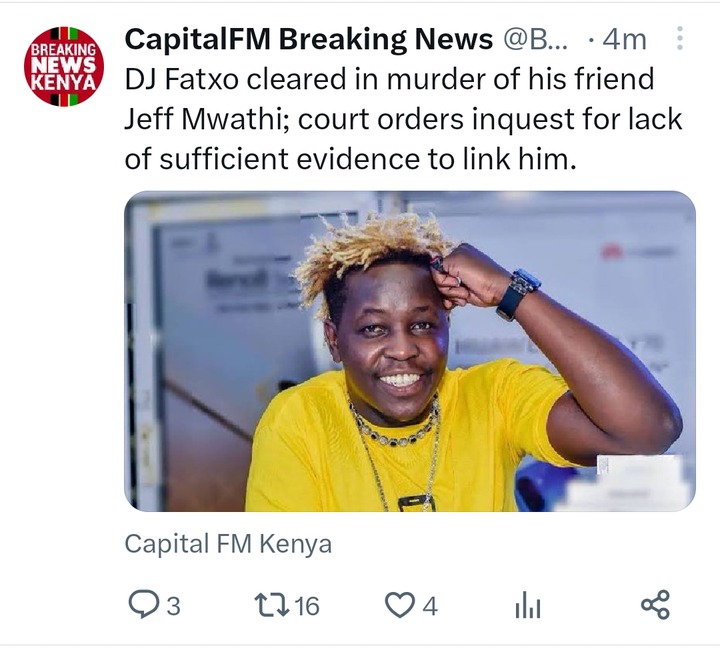 DJ Fatxo had been eagerly awaiting the results of the investigations and welcomed the court's decision to clear his name.
He expressed his commitment to transparent and thorough investigations, emphasizing the importance of uncovering the truth to dispel assumptions and allegations that have been circulating in relation to Jeff Mwathi's death.
Meanwhile, Jeff Mwathi's mother, Ann Wacuka, expressed her disappointment with the DCI's investigation into her son's death. Despite a lengthy meeting, she remained pessimistic about the outcome and voiced her skepticism regarding the delivery of justice in her son's case.
The court's decision to order an inquest indicates a renewed effort to shed light on the circumstances surrounding Jeff Mwathi's untimely demise. The inquest will provide an opportunity for further examination of the available evidence and testimony from relevant witnesses.
Content created and supplied by: Jay_Moh (via Opera
News )